Carney Following Shinseki Out the Door in D.C., Clinton Defends Benghazi Response in Book, Ban Lifted on Using Medicare to Pay for Sex Change Surgery: P.M. Links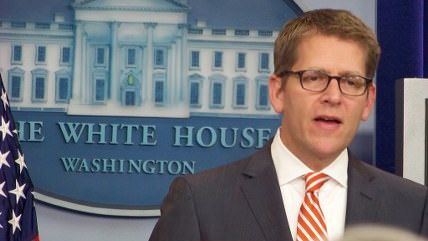 (Talk Radio News Service / photo on flickr)
Credit: Talk Radio News Service / photo on flickr

Veterans Affairs Secretary Eric Shinseki is resigning amid the massive scandal about delays in medical care and its cover up, to the surprise of probably few. However, the White House also announced Press Secretary Jay Carney will also be stepping down, leaving Josh Earnest as his replacement to stand before the White House press corps and explain why he can't answer any of their questions.

Hillary Clinton's forthcoming book, Hard Choices, has a chapter devoted to the deadly consulate attack in Benghazi, Libya, where she defends the State Department's response and complains about the politicization of the incident.
The Department of Health and Human Services today announced the end of a 30-year ban on allowing Medicare to help fund sex reassignment surgery for transgender people.
The Obama Administration is streamlining the rules for the export of liquefied natural gas while at the same time planning a major crackdown on pollution from coal plants. Winners of government regulations, meet losers of government regulations.
A meeting of officials to announce reforms to the Port Authority of New York and New Jersey has been canceled with no explanation.
Southwest Airlines was fined for advertising cheap flights to three cities but then not actually offering any seats at that fare rate. Southwest says the inclusion of those cities in the ads was a mistake.
Follow us on Facebook and Twitter, and don't forget to sign up for Reason's daily updates for more content.