Peter Suderman on Why the VA Is Not a Model Health System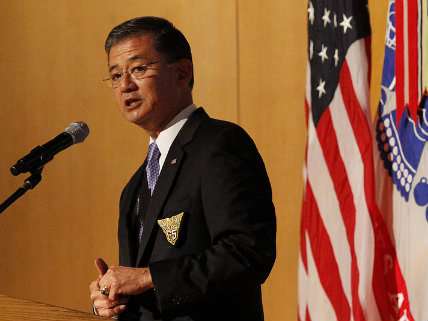 A damning report released by the Department of Veterans Affairs (VA) Inspector General will likely leave Democrats and their liberal allies clamoring for reforms to the government run health system for those who have served in the military. The report found that workers in the Phoenix VA network systematically manipulated wait time data, leaving thousands of military veterans waiting for medical appointments, and some 1,700 stuck in limbo after being left off the waiting list entirely. The average initial wait time for a primary care appointment in the Phoenix VA system was 115 days—a far cry from both the system's 14-day goal and the 24 days Phoenix officials had reported.
Until recently, Democrats have not been shy about expressing their feelings about the VA health care system. For years they have been telling us that it's great—a model system from which the rest of the nation's health care systems could learn a thing or two
The ongoing VA scandal over falsified records, and the deadly long wait times for care that appear to have been the result, strongly suggests that their praise is misplaced: Veterans are not safe and sound within the fully government-run system, its quality control leaves much to be desired, and its lengthy wait times are not a fictitious prediction but an all-too-grim reality.
In other words, it's hardly a triumphant, model health care system, writes Peter Suderman. Even if there were no scandal at all, the VA wouldn't be a system worth emulating.