Could Therapy Culture Help Explain Elliot Rodger's Rampage?
One of the terrifying achievements of the modern cult of therapy has been to churn out a generation of people completely focused on the self and in constant need of validation from others.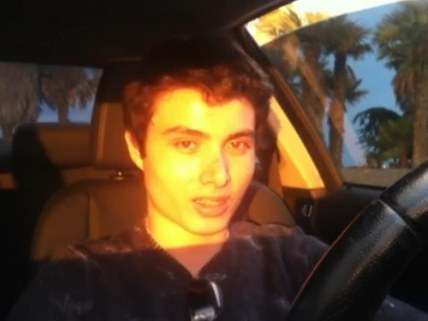 The most striking revelation about Elliot Rodger, the alleged Santa Barbara shooter, is that he had been in therapy for most of his life.
A family friend said Rodger had been seeing a therapist since the age of eight. Apparently he had visited a therapist "virtually every day" during his high school years. By the time of the massacre and suicide at the University of Santa Barbara over the weekend, when he was 22, Rodger reportedly had "multiple therapists."
Today it has been revealed that so central were his therapists to his daily existence that he emailed his hateful 141-page manifesto to them (and to his parents) 15 minutes before going on his stabbing and shooting spree.
I think Rodger's reported reliance on therapists from childhood through to adulthood deserves more analysis than it has so far received, because it potentially speaks to a dark side—a very dark side—of the modern therapy culture. There has been a mad dash to blame Rodger's actions on the misogynistic websites that he was known to visit, with some claiming these sites warped his mind and made him murderous. There has been far less focus on the therapy culture which by all accounts, and according to his family and friends, was a far more longstanding part of his life than his Internet habits.
Yes, he might have spent some late nights lurking on "men's rights" websites, but if the reports coming from those who knew him are to be believed, he spent 14 years visiting therapists.
To my mind, if we are going to say that any kind of "culture" was responsible for Rodger's rampage—and that is always a dangerous thing to do, since it lessens Rodger's own moral responsibility for what he did—then we might want to examine the impact of mainstream therapy culture rather than obsessing over the fringe misogyny culture he might have dabbled with.
We know a handful of things about Rodger. One is that he visited therapists. Another is that he was full of self-regard, was incredibly self-obsessed, and was utterly outraged when people, especially women, didn't treat him with the love and respect he felt he deserved.
It is possible that these two things are connected, maybe even intimately connected. For one of the main, and most terrifying, achievements of the modern cult of therapy has been to churn out a generation of people completely focused on the self and in constant need of validation from others; a generation that thinks nothing of spending hours examining and talking about their inner lives and who regard their own self-esteem as sacrosanct, something which it is unacceptable for anyone ever to dent or disrespect.
Could Rodger's fury at the world for failing to flatter his self-image as a good, civilized guy be a product of the therapy industry, of the therapy world's cultivation of a new tyrannical form of narcissism where individuals demand constant genuflection at the altar of their self-esteem?
Many thinkers have attacked the therapy industry's creation of a new and ravenous narcissism which demands constant flatter-feeding. In his classic 1979 book The Culture of Narcissism, the great Christopher Lasch said "the contemporary climate is therapeutic, not religious." He said therapy culture, the post-'60s obsession with self-reflection, had created a new "narcissistic personality"; it had given rise to individuals who "depend on others to validate [their] self-esteem" and who "cannot live without an admiring audience." The therapeutic individual views the world as a mirror, constantly expecting to see his own image in it, said Lasch, where the earlier, more robust individual saw the world as an "empty wilderness to be shaped by his own design".
In her powerful essay "The Overpraised American," Christine Rosen said the "overarching goal" of most therapeutic tomes is to teach people "how to love oneself." She quotes one self-help book which advises people to "Have a love affair with yourself!" Rosen writes: "Today's commercialised therapy purveyors all begin with the same premise: Think first of yourself."
The end result is a new generation invited to focus more on their navels, on their apparently fantastically interesting inner selves, rather than on the world around them; a generation encouraged to see any kind of challenge to their self-esteem, whether it's a tough exam, a presumed slight or a difficult, controversial idea, as an intolerable assault on their inner god. As the late American philosopher Jean Bethke Elshtain said, the era of therapy has created a "quivering sentimental self that gets uncomfortable very quickly, because this self has to feel good about itself all the time."
We see this everywhere today. We see it in university students who want to ban everything that they think harms their self-esteem, because they've been educated to see any attack on what they think and how they feel as utterly unacceptable. We see it in the growing cult of self-revelation and the search for validation on social networks like Twitter, where individuals' frenetic tweeting and their desperate desire for that all-important retweet speaks to the reorganization of society around the need for recognition, the need for an "admiring audience" to make the self feel puffed up. And we potentially see it, in its most extreme form, in Elliot Rodger, the son of therapy, who appears to be the ultimate "quivering sentimental self" made "uncomfortable very quickly" when he didn't feel good about himself.
It is striking how therapeutic is the language used by Rodger in his videos and his murder manifesto. He talks about how people's attitudes towards him "really decreased my self-esteem." He clearly sees such assaults on his self-esteem as unacceptable, saying "if they won't accept me… then they are my enemies." In short, fail to offer recognition to this damaged creature and you will pay the price. And then he makes the key cry of our therapeutic era: "It's not fair. Life is not fair."
Watch Rodger's video. The most alarming thing is how cool and well-spoken he is. This is a man used to talking about himself, following years of practice in therapy sessions. Clearly having decided to have a love affair with himself, Rodger terrifyingly declares: "I am the closest thing there is to a living god… Magnificent, glorious, supreme, eminent, divine!"
This isn't a religious thing. There's no evidence that Rodger thought he was a messiah, as other nutjobs have. Rather, it's a therapeutic thing. Therapy culture has created a new army of little gods made fearsomely angry by any perceived insult against their self-esteem. It has generated groups of people who, like something out of the Old Testament, think nothing of squishing things that offend them or hurt their sense of self-worth. It has made a whole new anti-social generation whose desire to protect themselves from emotional harm overrides the older human instinct to engage with other people and be tolerant of their differences. When Rodger says "I am a living god," he is speaking, not from any kind of wacky religious script, but from the mainstream bible of therapy. The cult of therapy convinces individuals they are gods and that their self-esteem is a gospel that must not be blasphemed against. As the New York Times columnist David Brooks once said of a therapeutic self-help guide to life, death, and life after death, "In this heaven, God and his glory are not the center of attention. It's all about you." The self has elbowed aside God; the self is God, as Rodger seems to have realised.
Perhaps we should see Rodger as a kind of therapeutic terrorist, using murder to gain recognition; his rampage can be seen as a very violent therapy session, a real primal scream in defense of his sacred self-esteem.