A.M. Links: U.S. Troops Deployed to Chad, Poll Finds 47 Percent of Unemployed "Completely Given Up" on Looking For Job, Supernova Observed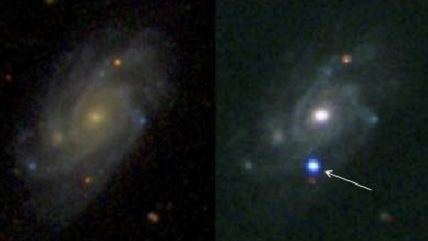 Avishay Gel-Yam/Caltech

The U.S. is deploying 80 troops to Chad to aid in the search for nearly 300 Nigerian girls kidnapped by Boko Haram last month.

Thirty one people were killed in a terrorist attack in Urumqi, China, that involved multiple explosives and two SUVs being driven into crowds.
Two Georgia Democrats have joined in the calls for the resignation of Veterans' Affairs (VA) Secretary Eric Shinseki. A whistleblowing VA police officer in Miami, meanwhile, says the veterans hospital there is plagued by theft, abuse, and drug dealing.
House Minority Leader Nancy Pelosi selected Rep. Elijah Cummings (D-Md.) to serve as the top Democrat on the select committee on Benghazi and made four other appointments.
Activists and McDonald's workers went to the company's corporate headquarters in Oak Brook, Illinois, to protest for higher wages; 138 of them were arrested on charges of trespassing.
A new poll found 47 percent of unemployed respondents saying they've "completely given up on looking for a job."
Caltech announced that last year one of its telescopes observed a star going supernova.
Follow Reason and Reason 24/7 on Twitter, and like us on Facebook. You can also get the top stories mailed to you—sign up here.