Obama Swings into Action with Sounds Bites Over VA Outrage, Democrats Join Benghazi Panel, Boko Haram Attacks Escalate: P.M. Links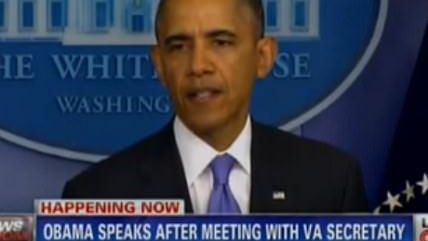 CNN

President Barack Obama said today he won't "tolerate" the cover-up of long wait times and extreme problems with health treatment of veterans through the Veterans Affairs office. He said there will be investigations and people held "accountable" and continued to act as though this were a new development and not a problem that had been known for years. He is not firing VA Secretary Eric Shineski as yet.

Democrats will be participating in the special Republican-led House panel investigating the circumstances surrounding the deadly attack on the U.S. consulate in Benghazi, Libya.
Online room rental service Airbnb has agreed to provide user data to New York City's attorney general in his pursuit of people running illegal hotels, but names will be kept confidential unless the city identifies particular users they believe are breaking the law.
Police investigating NFL football player Aaron Hernandez for murder are looking for evidence from the people who tattooed him.
Boko Haram attacks escalate in Nigeria, and the country is asking the United Nations to classify the group as a terrorist organization. No word as to whether their efforts include a hashtag campaign.
Dozens of people from all walks of life were arrested in the New York City area for possession of child pornography.
Follow us on Facebook and Twitter, and don't forget to sign up for Reason's daily updates for more content.