High School Senior Won't Be Banned from Graduation for Yearbook Chemistry Joke After All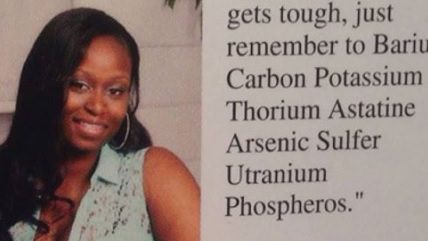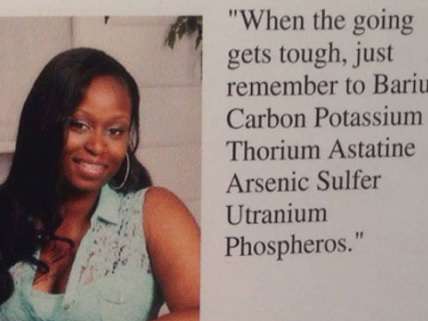 Mundy's Mill High School senior Paris Gray of Clayton County, Georgia, will be graduating after all. Gray received an in-school suspension and was barred from a "senior walk" after administrators figured out that a list of chemical elements she included in her yearbook blurb translated (by their periodical symbols) to "BaCK ThAt AsS UP," a reference to a 1998 song by the artist Juvenile. She said an assistant principal told her she would not be allowed to give a previously scheduled speech at graduation because of the yearbook comments.
Gray also pointed out no editors or administrators flagged the comment ahead of time. It shouldn't have taken any educator more than a few seconds of googling to figure out what the line "When the going gets tough, just remember to Barium, Carbon, Potassium, Thorium, Astatine, Arsenic, Sulfur, Utranium, Phospheros" meant, typos notwithstanding. Using the periodic table to spell a message out isn't quite "Whiskey Tango Foxtrot" but neither is it Navajo.
Gray's story got a lot of media attention and now the school is, uh, backing up, saying that the threat of Gray being punished by limiting her participation at graduation was a miscommunication and that she'd be allowed to give her graduation speech after all. Perhaps the school only ever intended to give her an "in-school suspension" and bar her from a single senior event. It could also be that the attention given to the school's overreaction to an obscure reference that included a minor profanity forced administrators to think twice about what they were doing.