Grimm Indicted, NBA to Respond to Clippers Scandal, Tenn. Deputy Fired for Choking Guy: P.M. Links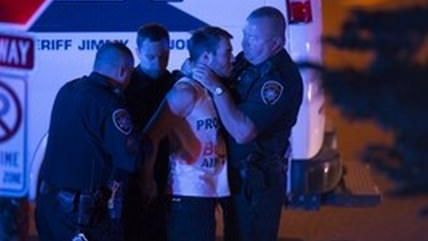 Credit: John Messner

Rep. Michael Grimm (R-N.Y.) has been indicted on 20 federal charges involving an alleged tax evasion scheme connected to his New York restaurant, horrifyingly named Healthalicious. He has pleaded not guilty and said he will not be resigning his seat.

Rep. Vance McAllister (R-La.) announced he will not seek out another term after being caught on video kissing a married female aide.
The National Basketball Association (NBA) will hold a press conference tomorrow to respond to the growing firestorm over private racist comments by Clippers owner Donald Sterling.
A deputy in Tennessee has been fired after photos emerged showing him apparently choking a college student charged with public intoxication. Two other deputies have been placed on leave.
Hundreds more Egyptians have been sentenced to death for connections to the Muslim Brotherhood, including the organization's supreme leader. This comes after most of the death sentences previously handed down to another large group of Egyptians were commuted to life in prison.
Syrian President Bashir al-Assad is running for re-election in the midst of his country's civil war. He is expected to win. Many of those who fled the country through "unofficial" channels will not be allowed to vote.
Follow us on Facebook and Twitter, and don't forget to sign up for Reason's daily updates for more content.