Comparative Global Morality: How Do American Views Stack Up on Abortion, Affairs, and Other Morally Charged Issues?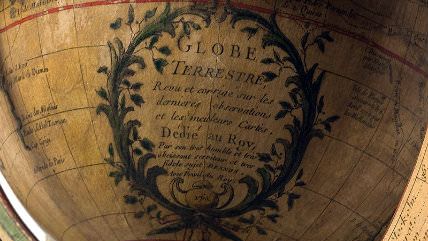 (Minnesota Historical Society/Wikimedia)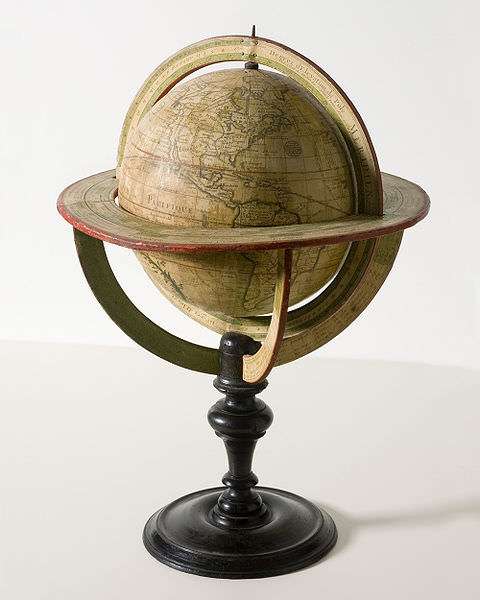 A new global survey from Pew Research Center compares views on morality in 40 countries. Respondents in each country were asked about the moral acceptability of eight things: abortion, alcohol, contraception, divorce, extramarital affairs, gambling, homosexuality, and premarital sex. They could classify each as either morally acceptable, morally unacceptable, or "not a moral issue."
You could spend quite a while pouring over and pondering the results. Here are a few interesting tidbits I gleaned.
1. On Booze
Unsurprisingly, Americans are among those with the least moral aversion to alcohol (we're even slightly less squeamish about it than the French). Only 16 percent of Americans find drinking alcohol to be morally unacceptable, compared to 18 percent of French respondents.
Other countries with high alcohol approval ratings were Australia (only 10 percent against), Britain (9 percent), Canada (9 percent), and Germany (14 percent). Countries where alcohol was most disapproved of were (again, unsurprisingly) Pakistan (94 percent), the Palestinian territories (89 percent), Indonesia, Tunisia, and Jordan (all 85 percent against).
2. On Lovers
It should also surprise almost no one that France has some of the most tolerant attitudes toward taking lovers. Here, 12 percent of respondents say having an affair is morally acceptable, and 40 percent say it isn't a moral issue, which makes only 48 percent really opposed to extramarital rendez-vous.
Other countries with lax attitudes toward monogamy include Germany (only 63 percent find affairs morally unacceptable), Spain (65 percent), India (73 percent), and the Czech Republic (73 percent). In the U.S., 86 percent say affairs are immoral, four percent say they're morally fine, and 10 percent say this isn't a moral issue.
3. On Gambling
In many countries, a large majority were morally against gambling. Countries with the most accepting attitudes toward gambling included the U.S. (where 25 percent say it's morally acceptable and 47 percent say it's not a moral issue), Australia, the U.K., Canada, Poland, Spain, Italy, Germany, and France.
4. On Abortion
In the U.S., a slight minority say abortion is morally unacceptable (49 percent), while 17 percent say it's acceptable and 23 percent say abortion isn't a moral issue. Overall, the countries most accepting of abortion were France, the Czech Republic, Germany, the U.K., Australia, Spain, and Japan.
Abortion disapproval is lowest in France, where only 14 percent say abortion is morally unacceptable and 47 percent say it's not a moral issue. In the Czech Republic, 18 percent say it's unacceptable and 49 percent say it's morally acceptable. In Germany, 19 percent say it's unacceptable; in the U.K., 25 percent; in Australia and Spain, 26 percent; and in Japan, 28 percent.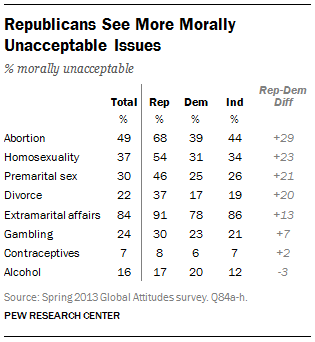 5. On Republicans
In the United States, sharp partisan divides were seen on five out of the eight issues. While 68 percent of Republicans said abortion is morally unacceptable, only 39 percent of Democrats said so. More than half of Republicans (54 percent) were opposed to homosexuality, compared to just 31 percent of Democrats, and almost half were against premarital sex, compared to a quarter of Democrat respondents.
Partisan divides were much smaller when it came to gambling, contraception, and alcohol. Boozing, spending money, and preventing pregnancies—the three things we can all agree on here. God bless America, folks!