Jacob Sullum on Stephen Breyer's Dangerously Broad Rationale for Campaign Finance Regulations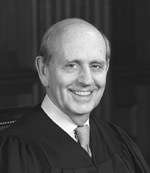 Last week the Supreme Court overturned federal limits on the total amounts that one person may contribute to candidates and political committees during a single election cycle. "The Government may no more restrict how many candidates or causes a donor may support than it may tell a newspaper how many candi­dates it may endorse," the Court declared in an opinion by Chief Justice John Roberts.
But according to Justice Stephen Breyer, who wrote a dissenting opinion that was joined by three of his colleagues, the restrictions challenged in McCutcheon v. FEC are perfectly compatible with the First Amendment, which "advances not only the individual's right to engage in political speech, but also the public's interest in preserving a democratic order in which collective speech matters." Jacob Sullum says the idea that individual rights must be sacrificed for the sake of a vaguely defined collective interest reflects the dangerously broad agenda of campaign finance "reformers," who seek to shape the political debate so that it comports with their own notion of the public good.