Hillary's New Book, Boehner Cries at Taco Bell Event, Hank Aaron Says GOP Is Like KKK: P.M. Links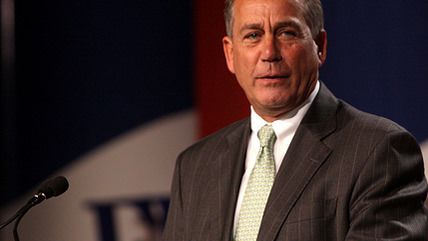 Mr. Fotoshop CC BY

Hillary Clinton is going to publish a new book about her experience as secretary of state. No word on the Benghazi chapter.

House Majority Leader John Boehner (R-Ohio) "choked back tears" while praising the Boys & Girls Clubs of America at a Taco Bell–hosted event. And he didn't even try the food.
The Obama administration declared that Iran's pick of a former student revolutionary as a United Nations ambassador is "not viable," and the Senate has voted to block him from entering the U.S. Now that's diplomacy!
The Tennessee State Senate passed a bill blocking the U.N. from sending election monitors to the state.
Baseball Hall of Famer Hank Aaron compared Republicans who oppose President Obama to the Ku Klux Klan.
Pro wrestler James "The Ultimate Warrior" Hellwig died yesterday, less than a day after giving a speech reflecting on his mortality.
Follow Reason and Reason 24/7 on Twitter, and like us on Facebook. You can also get the top stories mailed to you—sign up here.