Russian Military Buildup Questioned, HealthCare.gov Still Malfunctioning, French Leaders Step Down: P.M. Links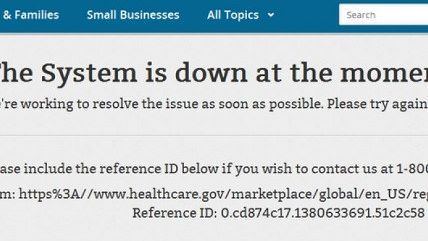 HealthCare.gov

Journalists actually went to examine that alleged Russian military buildup at the border to Ukraine but found little.

HealthCare.gov, which was malfunctioning this morning, is still malfunctioning this afternoon.
Following the pasting the ruling Socialist Party got at the polls, France's prime minister stepped down. President Francois Hollande named the interior minister as the replacement.
The Supreme Court today heard an important case on software patent law and what sort of creations could or should actually qualify for patents and how abstract a protected idea may be.
In a reminder of how utterly useless and unneeded the Federal Communications Commission (FCC) is, today it prohibited companies controlling more than one television station in the same market from sharing sales staff, which hurts the very small television stations the FCC chairman claims it will protect.
The State of New York is joining New York City in suing FedEx for illegally shipping contraband cigarettes to customers in the state, costing the state more than $10 million in tax revenue.
Follow us on Facebook and Twitter, and don't forget to sign up for Reason's daily updates for more content.