Ukraine's First Casualty in Russian Conflict, New Christie Scandal Emails Disclosed, White House Pastry Chef Quits: P.M. Links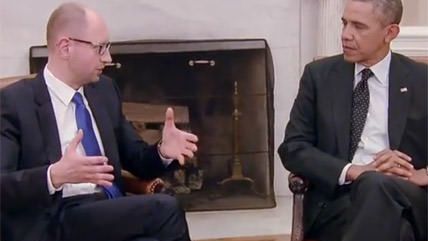 Story Accents / Foter / CC BY-NC-SA

Ukraine's interim prime minister stated that Russia has pushed the Crimean crisis "from a political to a military stage" and has committed "war crimes" following the killing of a Ukrainian serviceman today.

Newly disclosed emails indicate that Gov. Chris Christie's (R-N.J.) campaign manager was "in the loop" about the George Washington Bridge scandal as it took place.
The White House's top pastry chef is leaving the job, and Michelle Obama is "partly to blame" for pushing him to make healthier foods, according to the New York Times.
The Department of Commerce announced yesterday that it will relinquish some "key Internet domain name functions to the global multistakeholder community."
A news helicopter taking off near the Space Needle in Seattle crashed today, injuring one person and killing two others.
The Los Angeles Times was the first to report on yesterday's earthquake in California, because a robot wrote and published the story in three minutes. Whelp, it's been nice knowing you.
Follow Reason and Reason 24/7 on Twitter, and like us on Facebook. You can also get the top stories mailed to you—sign up here.