Eric Holder Briefly Hospitalized, Another Congressman to Retire, NSA Debates Scaling Back Phone Metadata Collection: P.M. Links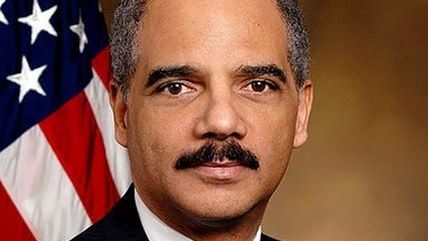 Official portrait

Attorney General Eric Holder was hospitalized briefly today after experiencing faintness and shortness of breath. He is back at home now.

Rep. Ed Pastor (D-Ariz.) announced he's retiring from Congress after 23 years of service. He's the 21st member of Congress (split nearly equally between the two parties) to announce plans to step down at the end of this term.
There are a handful of proposed changes to the National Security Agency's massive metadata collection procedures. The most significant change would be the option to severely scale back the data collection so that only data from actual terrorism suspects is collected. Outgoing NSA chief Gen. Keith Alexander suggested in a Senate committee meeting today that this option may well be a possibility.
Some more unredacted documents connected to George Washington Bridge scandal in New Jersey have been released. They don't provide any new information, but do indicate who was texting about the traffic jams and making jokes.
North Korea launched four short-range missiles off its east coast. The Pentagon says this is typical, permitted testing by the nation.
Five police officers in San Francisco have been indicted for allegedly stealing money and drugs that had been seized as part of investigations. The prosecutions originate from surveillance footage released by the city's public defender.
Follow us on Facebook and Twitter, and don't forget to sign up for Reason's daily updates for more content.