Jason Collins Quietly Takes the Court as NBA's First Openly Gay Player
Signs 10-day contract with Brooklyn Nets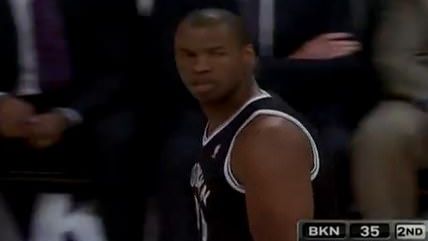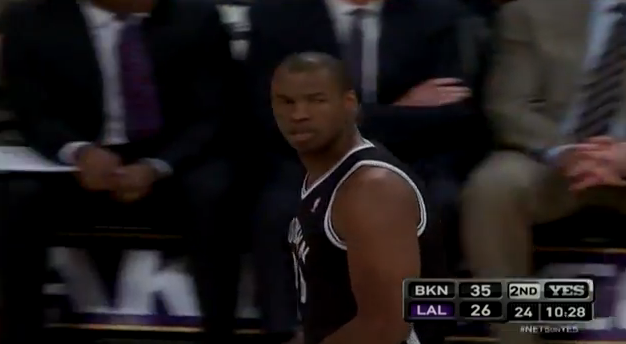 Sorry, Michael Sam, you may have to settle for being the first openly gay NFL player (maybe) rather than the first openly gay "big four" sports athlete. Jason Collins, the NBA center who came out of the closet last year, but hasn't played since then, has now played since then. Over the weekend, the Brooklyn Nets signed Collins, and he played for 11 minutes Sunday night against the Lakers.
The Nets won 108-102 against the Lakers. The Associated Press noted that the poor performance by the Lakers these days prompted ESPN to drop the game from its schedule, meaning the historical moment was not televised nationally.
So, how was Collins anyway? Collins was not brought on for flash or for big numbers. There's a reason people who aren't basketball fans hadn't heard of him. His job is to be a big, intrusive person who gets in the way of the opposing players so that his teammates can score. He fouls a lot. Kevin Arnovitz at ESPN analyzed Collins' brief appearance with the appropriate basketball jargon:
Collins then went to work and it was vintage unvarnished Collins. Nets coach Jason Kidd wanted a backup center who talked on defense, and that's what Collins proceeded to do, calling out directions from the back line like a veteran big man. He fouled like crazy—five in 11 minutes of court time. On the offensive end, he appeared rusty and his timing was off. He missed his only shot and fumbled a pass from Deron Williams while rolling to the bucket.

On the positive side of the ledger, Collins also plastered defenders with screens. After the game, he recounted with a broad smile his favorite moment of the night — witnessing Lakers point guard Jordan Farmar kvetch to the officials that Collins was setting moving picks. For guys like Collins who perform janitorial duties, this is among the highest compliments.
Arnovitz noted that the crowd in Los Angeles didn't exactly "create a moment" for Collins' return to the floor:
[T]hose who wanted a sentimental, politically satisfying Aaron Sorkin screenplay instead got a grainy Frederick Wiseman documentary utterly devoid of drama. There was a smattering of supportive applause and a few standers, but many couldn't be bothered to look up from their phones.
Arnovitz, though, fails to note that the Staples Center responded to Collins taking to the court by playing the theme song to The Addams Family, clearly a shout-out to Paul Rudnick, the openly gay screenwriter of Addams Family Values. (Why should sports writers be the only ones to get to traffic in trivia?)
Anyway, it was obvious all along that should Collins return to active competition, it was going to be in this low-key fashion. This contract is for 10 days, so we'll just have to see how his remaining games go.
Watch history being made before a mostly disinterested but kindly crowd below: