A.M. Links: No US Troops in Iraq Again, Yet, White House Defends Joe Biden From Bob Gates Criticism, American Military Helicopter Crashes in England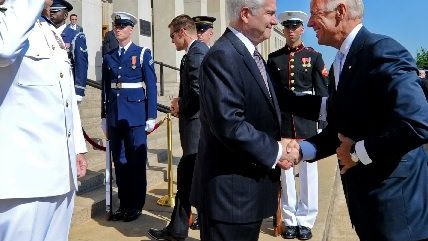 Defense Dept.

General Ray Odierno, the army chief of staff, says the U.S. ought to take a "wait and see" approach to sending troops into Iraq, though the time was "certainly" not now. The U.S. and Iran both denied cooperating on the fight against Al Qaeda in Iraq. Meanwhile in Syria, rebel commanders warned Al Qaed- linked jihadists that they ought to surrender or face "massacre," giving them 48 hours to make a decision, and non Al Qaeda-affiliated Islamist fighters have reportedly seized an Al Qaeda headquarters in Aleppo.

Former Secretary of Defense Robert Gates' new memoirs call into question the competence of several members of the Obama administration, including the president. The White House has responded to Gates' characterization of Vice President Joe Biden—Gates called him a man of integrity who was nevertheless "wrong on nearly every major foreign policy and national security issue over the past four decades"—by claiming Biden is, in fact, competent, and that Obama relies on his counsel every day.
An American military helicopter crashed off the coast of North Norfolk in England, killing four.
The FAA says hobbyists can fly remote controlled aircraft, but when a journalist used a drone to capture footage he wanted, the FAA says that was commercial activity and therefore illegal.
The "polar vortex" sending cold air across North America can be felt as far south as Atlanta. It's colder than a summer's day on Mars.
The mayor of Durham, North Carolina announced a report on the November death of a teenager in police custody will be out before Friday. Cops say the teen shot himself in the head while handcuffed in the back of a police cruiser.
Sony says it's sold more than 4.2 million Playstation 4 units since the console's November release, more than 1 million more units than Microsoft said it's sold.
Follow Reason and Reason 24/7 on Twitter, and like us on Facebook. You can also get the top stories mailed to you—sign up here.