Obama Administration Delays Individual Mandate for People Whose Insurance Policies Were Canceled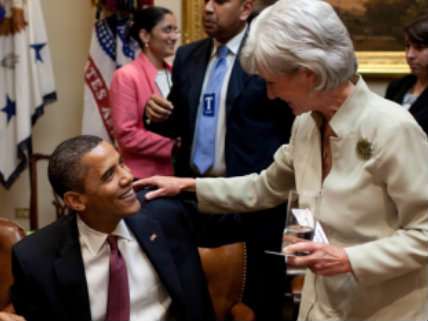 People whose health insurance plans were canceled as a result of Obamacare will not be subject to Obamacare's penalty for being uninsured next year, the administration announced tonight. People whose plans were canceled and are having difficulty paying for a new plan will also be allowed to purchase catastrophic health plans from the exchanges, which had previously been available only to people under the age of 30.
The way this works is that the law allows for a hardship exemption for people who don't have access to affordable coverage. The White House previewed this argument back in October, when press secretary Jay Carney talked around questions about delaying the individual mandate, saying that "as written, it is clear that people without access to affordable care will not be penalized."
The move is likely to create two political problems for the administration. The first is that insurers don't like it. Health insurance trade group AHIP said tonight that the adjustment "could cause significant instability" in the insurance marketplace and lead to "further confusion and disruption" for health insurance beneficiaries.
The second is that it's hard to justify offering this exemption to the previously insured but not to those who were previously uninsured. A person's plan is canceled, and as a result that person is not subject to the mandate. But if that person was not insured this year, a person who is otherwise exactly the same is subject to the fine? Good luck selling that one.
Back in July, the administration issued a strongly worded veto threat for a House bill to delay the mandate for everyone by a year.