Contributors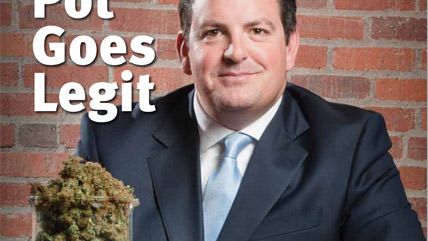 Tripp Keber, 45, is the founder and managing director of Dixie Elixirs & Edibles, a medical marijuana company based in Colorado, where marijuana was legalized for adult use last fall. Keber is the winner of reason's online contest to find a cover model for our article about Colorado's efforts to create a legal marijuana regime, "Pot Goes Legit" (page 20).
Dixie Elixirs was founded in the summer of 2010 with three employees and a single product-pot soda. At the outset, the company was located in a 450-square-foot residence that Keber says was "essentially a drug house" located in a dangerous neighborhood. "We were never really worried about the police," Keber says. "We were worried about our neighbors."
But the company grew quickly, and it soon moved into its current 27,000-square-foot facility. Between 2011 and 2012, revenue grew by 150 percent, and Keber says he expects it to triple next year.
These days, Dixie Elixirs makes 85 different products across 11 different product lines, including soda flavors as diverse as sparkling pomegranate and sweet tea. Keber says that the signature medical elixir that the company is named after is "by far our most popular product. It's the flagship." As of September, Dixie supplies at least one of its products to more than 480 of Colorado's 500-odd pot facilities. Keber's business also serves 350 out-of-state outlets.
"It's an exciting time" for pot entrepreneurship, Keber says. "It hasn't been this way always. There's been some really dark days. I've taken some incredible risks, financially, and personally as it relates to my liberties."
But a recent memo from the Department of Justice indicating that it won't aggressively interfere with state legalization has helped quell Keber's fears. The memo, he says, "was an endorsement for cannabis entrepreneurs all over the country to proceed."
Going forward, Keber expects to see more states legalize marijuana for adults, creating additional opportunities for pot businesses. "You'll have between 60 and 65 percent of the population" with legal access to marijuana, he says. "What you're seeing is momentum."