The Great Halloween Roundup of 2013
Holiday readings from the Reason archives.
Halloween readings from the Reason archives: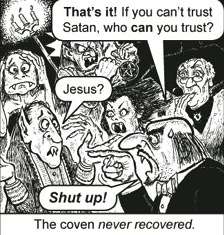 Charles Barr, "The Exorcist" (1974): Our film critic is impressed.
John Hospers, "Halloween" (1979): The Libertarian Party's first presidential nominee praises the movie Halloween, calling John Carpenter "a writer-director who, though still in his apprenticeship, may yet one day fill Hitchcock's shoes."
Tim Cavanaugh, "Sympathy for the Devil's Night" (2002): Strictly speaking, this one is about the night before Halloween.
Damon Root, "Hell Hounds" (2003): The horrifying case of the West Memphis Three.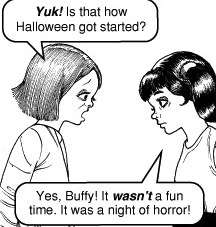 Virginia Postrel, "Why Buffy Kicked Ass" (2003): An appreciation of Buffy the Vampire Slayer.
Jesse Walker, "The Halloween Election" (2004): I combine a Halloween column with an Election Day column. Pundits are allowed to do this only once.
Jesse Walker, "Santa Claus Conquers the Martians" (2005): Technically a Christmas article, but I'm including it for its reading of It's the Great Pumpkin, Charlie Brown as the anti-Charlie Brown Christmas.
Tim Cavanaugh, "We the Living Dead" (2007): The politics of zombies.
David Weigel, "Interview With a Vampire Expert" (2007): A Q&A with Eric Nuzum, author of The Dead Travel Fast: Stalking Vampires from Nosferatu to Count Chocula.
Jesse Walker, "The Passion of the Pumpkin" (2007): An early dispatch from the War on Halloween.
Jesse Walker, "Satan's Faces" (2008): The many lives of Lucifer.
Jesse Walker, "Season of the Regulator" (2010): "a quick, far from exhaustive list of the dubious ways the authorities are now policing All Hallow's Eve."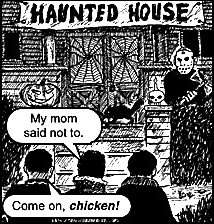 Scott Shackford, "Meddling Officials Put Kibosh on Crazy Naked Haunted House Plan" (2013): No description could improve on that headline.
Nick Gillespie, "The War on Halloween is Not Healthy for Children and Other Living Things" (2013): Halloween killjoys and the case for school choice.
Jesse Walker, "The Legend of the Child-Stealing Gypsies" (2013): In which the fear of monsters turns people into monsters.
Jess Remington, "Halloween Sex Offender Laws Are Unjustified" (2013): The latest fashion in ill-conceived Halloween rules.