A.M. Links: Not Enough Drone Strikes For Top House Republican, Bill Clinton Says Vladimir Putin is Trustworthy, George H.W. Bush Attends Gay Wedding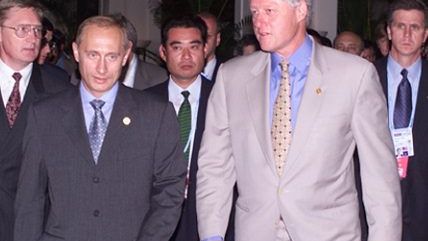 Kremlin

Mike Rogers, the chairman of the House Intelligence Committee, is concerned that the number of drone strikes are going down even as a number of terrorist attacks get in the news.

Bill Clinton says Vladimir Putin is a man to be trusted (can he see into his soul like Bush did?), but that the US will "just have to see what happens" when it comes to the Syria deal.
George H. W. Bush, meanwhile, attended a gay wedding in Maine.
The FBI says Aaron Alexis, the Washington Navy Yard shooter, was delusional and believed he was being manipulated by electromagnetic waves.
A councilwoman in Philadelphia dropped plans to throw a fundraiser for her personal debts and expenses after the Board of Ethics expressed serious reservations.
A former Nashville cop was arrested after being indicted on one charge related to using police resources while he was a cop to get his ex-girlfriend fired.
Iranian President Hassan Rouhani acknowledged the Holocaust happened after previously dodging the question in an NBC News interview. In that interview he said he was not a historian, while this time he insisted the matter of "scale" should be left up to them. The previous Iranian president, Mahmoud Ahmadinejad, was a Holocaust denier.
Two supermarket chains in Britain apologized for carrying a Halloween costume billed as "mental patient." It included a blood-splattered strait jacket and a meat cleaver. Mental illness advocacy groups were upset.
Follow Reason and Reason 24/7 on Twitter, and like us on Facebook. You can also get the top stories mailed to you—sign up here. Have a news tip? Send it to us!