Cruz Marathon Speech Ends, Gen. Alexander Would Rather We Didn't Know About Surveillance, Calif. Min. Wage Increase Signed Into Law: P.M. Links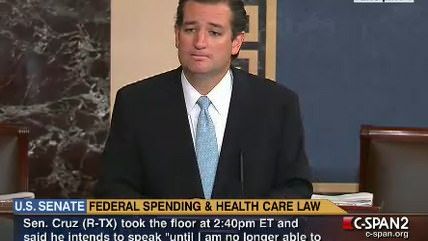 C-Span

Sen. Ted Cruz's unofficial anti-Obamacare filibuster ended at noon today. The marathon discussion lasted more than 21 hours.

Gen. Keith Alexander blames the anger by Americans (and the rest of the world) on the National Security Agency's surveillance methods on leaks and "sensationalized" reporting. Well, that's a rude way to describe those FISA court statements detailing their Fourth Amendment violations.
President Barack Obama's job approval is plunging among Democrats, dropping 13 percentage points since the start of the year. But it's still pretty high at 78 percent.
The U.S. Treasury Department has determined Oct. 17 will be the day we run out of money to pay the bills.
In Massachusetts, 158 proposed medical marijuana dispensaries have passed the first round of the licensing process. Eventually the number will be winnowed down to 35.
It's a done deal: Calif. Gov . Jerry Brown has signed the bill that would eventually increase the state's minimum wage to $10 an hour.
Those who may end up losing their jobs over the previous item may be nonplussed to discover that a computer glitch has cut off 800,000 Californians from their unemployment benefits.
Have a news tip for us? Send it to: 24_7@reason.com.
Get Reason.com and Reason 24/7 content widgets for your websites.
Follow us on Facebook and Twitter, and don't forget to sign up for Reason's daily updates for more content.