New Iranian President: Pursuing Nuclear Program, Not Nuclear Weapons, Instability Israel's Fault
Interviewed by NBC News ahead of trip to New York for the UN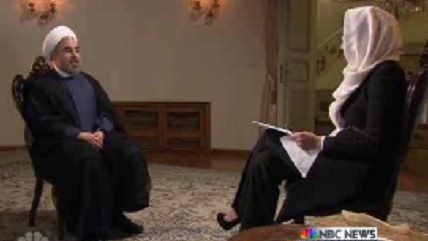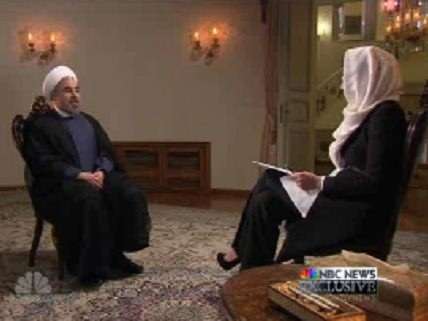 Iran's recently new president, Hassan Rouhani, may be a moderate compared to his predecessor, Mahmoud Ahmadinejad, and has certainly taken a more conciliatory stance toward the United States, in contrast to Ahmadinejad's confrontational and often hostile tone. In an interview with NBC News, Rouhani insisted he had "complete authority" to negotiate with other countries about Iran's nuclear program, even though Iran's constitution gives him little power over foreign policy. Instead, it lies with Iran's supreme leader, Ayatollah Khamenei, whose own favorite for president, Iran's chief nuclear negotiator for the last six years, lost this June's election.
The new president has, however, taken the same old Iranian line on Israel. Via Haaretz:
Iranian President Hassan Rohani, in a television interview, said his country is not seeking war but harshly criticized Israel for bringing "instability" to the Middle East and for questioning his government's intentions toward nuclear arms…

Rohani called Israel "an occupier, a usurper government that does injustice to the people of the region" and said it "has brought instability to the region with its war-mongering policies."

But when asked further about Israel, Rohani also said: "What we wish for in this region is rule by the will of the people. We believe in the ballot box. We do not seek war with any country. We seek peace and friendship among the nations of the region."
Tellingly, Rouhani also declined to agree or disagree with his predecessor's claim that the Holocaust was a mix, saying he was not a historian. Neither are most people, but they still know Ahmadinejad's claim was delusional. The reference to the "will of the people," meanwhile, alludes to Iran's "one-state solution" stance toward Israel, which would see the Israeli state abolished. When it comes to Israel, then, Iran's foreign policy remains as interventionist as ever despite the adjustment in rhetoric.
The entire raw interview doesn't appear to be available online, but here's an NBC Nightly News segment: