12 Dead in Washington Navy Yard Shooting, Flooding Continues in Colorado, State Department Benghazi Investigation Criticized: P.M. Links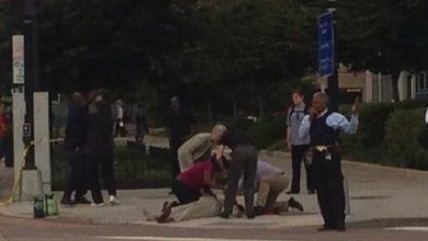 Twitter via Softpedia

The death toll in the shooting at the Washington Navy Yard has risen to 12. Up to three shooters may have been involved. At least one, identified as Aaron Alexis, was killed by police.

More than 1,200 people were unaccounted for in massive flooding that continues in Colorado.
A House Oversight Committee report determined the State Department's investigation of failures surrounding last year's Benghazi attack was not independent and ignored the role played by senior officials.
Joe Biden may want to be elected president in 2016 because he thinks Barack Obama's done such a bang up job.
Bill Thompson has dropped out of the New York City mayor's race and endorsed fellow Democrat Bill de Blasio. De Blasio may or may not have reached the 40 percent necessary to avoid a run off. He faces Republican Joe Lhota in November.
A former TSA agent accused of making airport threats appears in court today for a bond hearing.
Janice Lokelani Keihanaikukauakahihuliheekahaunaele complains that her name doesn't fit on her Hawaii driver's license. The state says its working on increasing the name character limit from 35 to 40.
Amazon.co.uk has reportedly shipped some pre-ordered copies of Grand Theft Auto V before the video game's official release date.
Follow Reason on Twitter too, and like us on Facebook. You can also get the top stories mailed to you—sign up here.
Have a news tip? Send it to us!