Taliban Attacks US Consulate in Afghanistan, McCain Hints at Retirement, Syrian Rebels Claim Another Chemical Attack: P.M. Links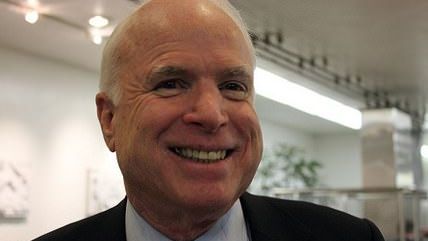 (Medill DC / Foter / CC BY)
Credit:Medill DC / Foter / CC BY

The Taliban attacked a U.S. consulate in Afghanistan and were fended off. Two Afghan police and a security guard were killed.

Sen. John McCain is hinting around that this may be his last term in the Senate. He wouldn't want to overstay his welcome, you know.
Syrian rebels claim there has been another chemical weapons attack in the suburb of Jobar in Damascus.
The Senate is pushing forward with a media shield law that still attempts to define who a "real journalist" is. Under the legislation, bloggers who report news will be covered, but sites like Wikileaks will not. The legal challenges to such legislation will certainly be interesting.
Michael Bloomberg is declining to formally endorse any candidate to succeed him as mayor of New York City. That probably comes as a relief to the candidates.
Thanks to the anti-vaccination folks, America is on its way to its worst measles outbreak in almost 20 years.
Have a news tip for us? Send it to: 24_7@reason.com.
Get Reason.com and Reason 24/7 content widgets for your websites.
Follow us on Facebook and Twitter, and don't forget to sign up for Reason's daily updates for more content.