Syria Strikes Seem More and More Likely, Congress to Discuss State Marijuana Laws, Feds Help Pay for Detroit Streetcar Line: P.M. Links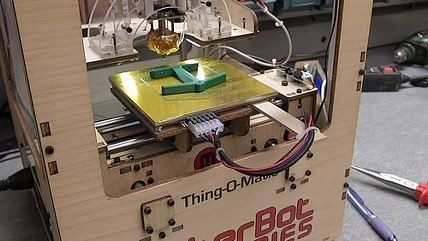 (Geekubator / Foter / CC BY)
Credit: Geekubator / Foter / CC BY

By the time you read this, the United States may be launching air strikes on Syria, lack of American public support be damned. Maybe not today, though. Secretary of Defense Chuck Hagel says the strikes will happen only with international support. Um, what about Congress, guys?

The Senate will have a hearing, called by Sen. Patrick Leahy of Vermont, to discuss the conflict resulting from some states refusing to treat marijuana as a controlled substance in the way the federal government wants them to.
Wall Street is taking note of the potential for 3D-printing, and at least one analyst expects the market to triple by 2018.
The federal government is contributing $25 million of the $140 million needed for a 3.3-mile streetcar line in thoroughly bankrupt Detroit. $100 million was actually contributed by 15 private donors, so one wonders why they didn't just build it themselves.
Zurich, Switzerland, is experimenting with making its legalized prostitution safer (and less visible) with drive-in sex garages.
New Jersey's attorney general's office worries that their state police are just too corrupt (no, really!), finding problems or mistakes with nearly a third of all traffic stops examined.
Have a news tip for us? Send it to: 24_7@reason.com.
Get Reason.com and Reason 24/7 content widgets for your websites.
Follow us on Facebook and Twitter, and don't forget to sign up for Reason's daily updates for more content.