Is Western Intervention in Syria Imminent Now?
Maybe-ish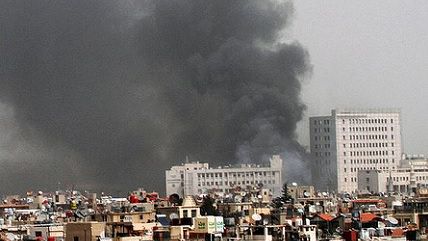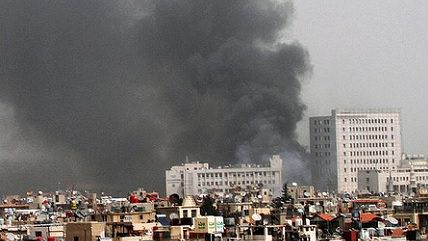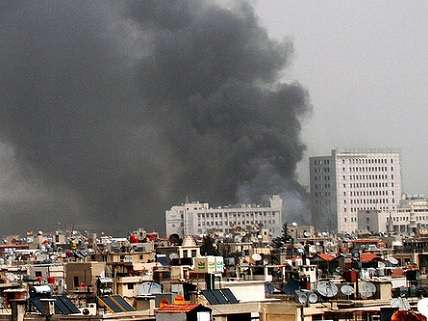 The Russians appear to think so, calling Western war planning "illegal." Interventionists have been looking for a reason to meddle in Syria since hostilities in that country first began in 2011, and even much earlier. The latest allegations of chemical weapons use in Syria may well serve as a sufficient pretext to escalate intervention. The West is, of course, as Russia and Iran are, already intervening in Syria, and neither are the allegations of chemical use new.
Last time around, the regime and the rebels blamed each other for the atrocities (this time around too), and the US said it was convinced it was the government that had used them. This time, after some initial reluctance and subsequent prodding by Russia, the Syrian government allowed UN inspectors into the country to investigate the allegations. (Last time UN inspectors only made it to Turkey). Inspectors arrived only this morning but US officials say they are already convinced the Syrian regime used chemical weapons against civilians. Not only is such a condition sometimes not even enough to stop the US from supporting a murderous regime, but in perspective such a condition should not affect the calculus of intervention. The alleged actions, even if true, have not changed the nature of the conflict. A bloody civil war has engulfed Syria for more than two years.
Even the US acknowledges this; the Obama Administration insists any forthcoming US military intervention will be about responding to, and preventing future, chemical weapons use, and not about picking sides in the civil war. That's not possible to do while also ascribing the use of chemicals to only one party in the conflict. Nevertheless, it does not appear President Obama is eager to escalate US involvement in the conflict. The White House acknowledges the rebels are largely untrustworthy as partners, even as the US provides some of them material support, and Obama has moved the red line further back before.
John Kerry's bluster aside ("As a father, I can't get the image out of my head of a man who held up his dead child, wailing while chaos swirled around him," he said, without a hint of irony for the dead children in other Muslim countries America is sometimes blamed for; a different totality of circumstances, surely), military intervention in Syria does not appear to be a sure thing yet. Previous US interventions (like that in Libya, Iraq, or even Afghanistan) came with some kind of approval from the UN Security Council. Without the support of Russia, it's impossible in this case.
Some commentators point to the Kosovo example, where NATO authorization was enough for Western countries to strike at Serbia. Despite the potential threat to NATO member Turkey the conflict in Syria might present, NATO leadership "completely" ruled out intervention in Syria nearly two years ago. When terrorist attacks hit a town near the Turkish-Syrian in May were attributed to Syrian rebels, the Turkish prime minister Recep Erdogan said it would not drag his country into a "quagmire". NATO appeared close to intervening last December, when it armed Turkey with Patriot missiles and the USS Eisenhower was reported to have been deployed to the Mediterranean, but war didn't materialize. The usual suspects continue to press for war, insisting a "limited" operation could accomplish some "limited" but worthwhile "humanitarian" goals, yet US and Western involvement in the Syrian conflict has remained relatively limited, even as several Western powers look for more ways to help the rebels.
In that respect, perhaps the most troubling news comes from Speaker John Boehner's spokesperson, who says the speaker has insisted on "meaningful consultation" with Congress before the US commits to military action. In Libya, President Obama looked not to Congress for any kind of authorization, but the UN, NATO, and even the Arab League. Congress must demand that the president not act without its authorization, as prescribed by the Constitution, or it risks seeing its war making powers completely co-opted, and America pulled into another military intervention by eager Europeans.
I'll be discussing the issue of intervention in Syria on Russia Today's "Cross Talk" tomorrow at 10am Eastern.