Kurt Loder Reviews Elysium and We're the Millers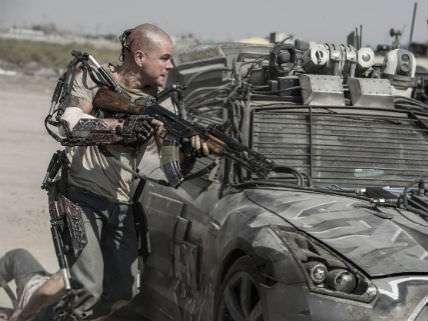 Elysium has a classic sci-fi structure, writes Kurt Loder, the movie's social observations—about famously screwed-up U.S. immigration and healthcare policies—lead to the advancement of simpleminded political fixes for these complex issues that could only pass for deep thought in the movie business. They're a thudding distraction from what should be the movie's more straightforward pleasures.
We're the Millers, on the other hand, is a simple elevator-pitch comedy that's brought to life by its actors. Jason Sudeikis is David, an aging Denver pot dealer. Jennifer Aniston is David's apartment-house neighbor Rose, a similarly aging stripper who thinks David is a jerk. Emma Roberts plays Casey, a sullen street kid David rescues from a gang of thugs one night. And Will Poulter is Kenny, a neighborhood dork in whom David takes a fond interest. When David is robbed of his dealer bag and $43,000 in illicit proceeds, his drug-king boss says he'll forgive the debt if David will just travel down to Mexico for him and pick up a consignment of weed. David recruits Rose, Casey and Kenny to join him on this trip, impersonating a family.