Fort Hood Shooter on Trial, Anniversary of Hiroshima Observed, Boycott ObamaCare or Russian Vodka? P.M. Links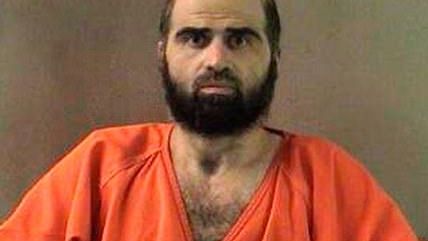 (Bell County Sheriff's Office)
Bell County Sheriff's Office

The trial of Army Maj. Nidal Hasan, accused of killing 13 people in a shooting rampage at Fort Hood, Texas, began today. Hasan is defending himself.

Health and Human Services Secretary Kathleen Sibelius thinks conservative efforts to encourage young adults to refuse to enroll in ObamaCare will ultimately hurt said young adults. Of course, it will hurt all the older people who were hoping to subsidize their own healthcare costs with infusion of money from the young and healthy all the more.
Damn the facts and full-speed ahead: The public spectacle of gay bars boycotting Russian vodkas continues, with Stolichnaya still being the public whipping boy, despite its tenuous ties to the country, its support of the gay and lesbian community in the face of Russia's oppression, and its complete lack of power or influence to create change in Russia on its own.
The U.S. government is declining to boycott Russia, though, and will meet with defense and foreign leaders Friday despite being upset that the country has given asylum to Edward Snowden.
We've noted this development in Hit & Run before, but tonight may be the night Deer Trail, Colo., decides to start offering hunting licenses to shoot down drones.
Have a news tip for us? Send it to: 24_7@reason.com.
Follow us on Facebook and Twitter, and don't forget to sign up for Reason's daily updates for more content