The Burka Avenger, Pakistan's Newest Superhero
Rescues a girl's school from a corrupt politician in the premiere episode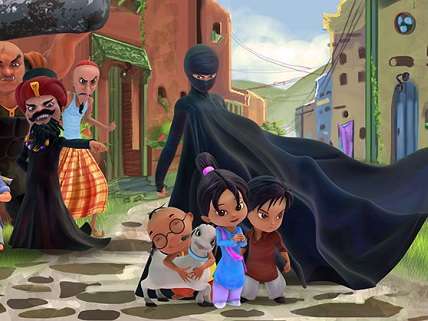 A new children's show called "Burka Avenger" premieres in Pakistan next month. It features a female superhero in a fictional northern Pakistani town, and two regular villains meant to reflect the reality in Pakistan; a corrupt government official and an evil magician styled to look and feel like a Taliban commander. The show was created by Pakistani pop star Haroon Rashid. Rashid explained the use of the burka as the costume, via the AP:
Rashid, who is certainly no radical Islamist, said he used a burka to give a local feel to the show, which is billed as the first animated series ever produced in Pakistan.

"It's not a sign of oppression. She is using the burka to hide her identity like other superheroes," said Rashid. "Since she is a woman, we could have dressed her up like Catwoman or Wonder Woman, but that probably wouldn't have worked in Pakistan."
Each episode has a "moral," focusing on issues like girls education and the problem with discrimination. The first episode, which was screened to a group of Pakistani orphans, focused on the evil magician and the corrupt politician working together to try to shut down the local girls' school, where the Burka Avenger works as a teacher when she's not a superhero. The show has the potential to push back against radical Islamists seeking more influence in Pakistan and provide a media role model of sorts for young Pakistani girls. The Burka Avenger is not the only superhero in Pakistan—there's Commander Safeguard, created by an advertising agency to sell soap.
h/t Bardas Phocas