More Protests in Brazil as Pope Francis Visits
Protesting $53 million cost in public funds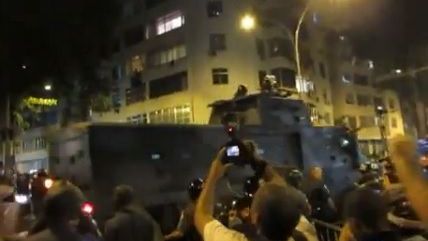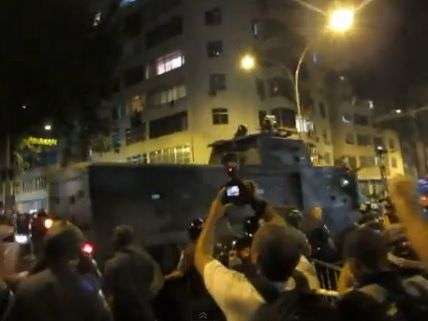 Pope Francis touched down in Brazil on his first overseas trip as pontiff, setting off fresh protests in the country, which has seen anti-government demonstrations for the last month. Protesters in Rio de Janeiro focused on the cost of the pope's trip, $53 million in public funds. They directed their anger at Rio's governor, Sergio Cabral, no stranger to accusations of corruption, and Brazil's president, with one banner reportedly reading "down with the fascist state and its anti-people governments." Police charged into at least one protest after saying someone had thrown a Molotov cocktail at them. According to the YouTube video below, who the police ended up arresting was a "Media Ninja," a grassroots independent media operation that's been livestreaming protests in Brazil:
The Wall Street Journal talked to Bruno Torturra, the journalist who founded the Media Ninjas, last month:
As mass protests shake Brazil, Mr. Torturra's Ninja Media is giving his old employer a run for its money.

The rising role of social media in street protests isn't new—it has fueled protests from the Middle East to Asia. But in Brazil—which has the biggest number of Facebook and YouTube users in any market outside the U.S.—the trend has also allowed independent media to gain some traction in a landscape long dominated by a few mainstream giants…

Mr. Torturra said Ninja Media has tapped into a sentiment that traditional media outlets were focusing disproportionately on small groups of vandals than on peaceful protesters and on police violence. Brazil's largest broadcaster, Globo, said its stands by its reporting of the protests and has showed both sides of the issue.

"Brazil doesn't have anything like [the online news website] Huffington Post. We have many active bloggers…[but] they had a niche audience," Mr. Torturra said. "That's changing now.…There's more demand now for independent media than" there is content.
The Media Ninja shown being arrested last night was released today, later addressing protesters with comments critical of Rio's military police (that they can't police and don't respect democracy) and asking the crowd that had gathered to stay until ten other "media ninjas" were released by police.
More Reason on Brazil protests here. More footage of last night's clashes here.