Introducing Reason's 45 Enemies of Freedom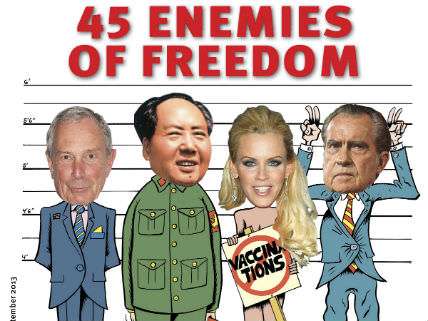 In 2003, to celebrate 35 years of publishing a monthly magazine dedicated to Free Minds and Free Markets, Reason named "35 Heroes of Freedom"—innovators, economists, singers, anti-communists, pornographers, professional athletes, and even the occasional politician who contributed to making the world a freer place since 1968.
Our 45th anniversary has come along at a darker moment. So it's fitting that this time around we're anointing Reason's 45 Enemies of Freedom. What unites them is their active effort to control individuals rather than allow them free choice, to wield power recklessly rather than act on the recognition that the stuff inherently corrupts, and to popularize lies in a world that desperate for truth.