U.S. Embassy in Brazil: Americans Should Avoid Protests, Even Peaceful Demonstrations Can Turn Violent
More demonstrations planned for tomorrow as Brazil plays Uruguay in the Confederations Cup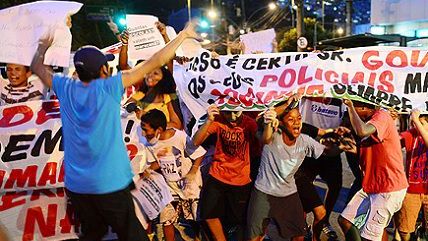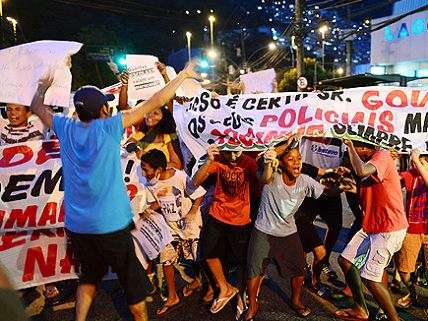 Demonstrations in Brazil continue into a second week, and the U.S. embassy has issued another travel warning to Americans in Brazil:
The U.S. Embassy in Brasilia alerts U.S. citizens traveling to and residing in Brazil to continued protests in several cities throughout the country including Sao Paulo, Rio de Janeiro, Brasilia, Recife, Belo Horizonte, Porto Alegre, Fortaleza, Salvador, and Manaus. Protests have occurred throughout Brazil in the past week and more are planned for June 26. There have also been calls on social media for a series of strikes and protests throughout Brazil, which could potentially occur in the next week.

U.S. citizens should avoid the protests and areas where large gatherings may occur. Even demonstrations or events intended to be peaceful can turn confrontational and possibly escalate into violence. U.S. citizens in Brazil are urged to continue to monitor local news reports and to plan their activities accordingly.
Safety first travelers, you can watch history on the hotel television!
Tomorrow's protests are set to come as Brazil plays Uruguay in the FIFA Confederations Cup, which began in Brazil on June 15, before protests started, and is set to finish with the finals match on Sunday. The Confederations Cup has also been used as an excuse to declare municipal holidays, asBelo Horizonte, for example, has done for tomorrow. Banks will be closed, and a local businessman, Alexandre "ADG", who runs a mechanic shop there, also says in this YouTube video (in Portuguese) titled "Fuck the businessman, soccer's where it's at" that other businesses have been told to close tomorrow or face fines.
FIFA, meanwhile, dismissed local media reports last week that it might be cancelling the tournament. Brazil won the right to host the 2014 World Cup in 2007. It was the only city in South America to bid on the tournament, which had to be held on the continent in 2014, but FIFA said it was a solid bid and Brazilians celebrated anyway. Demonstrations broke out earlier this month because of increases in the public bus fare (which have largely since been suspended or revoked), but protests have expanded nonetheless to include excessive government spending on World Cup-related infrastructure as well as corruption.
More Reason coverage on Brazil here.