A.M. Links: Jay Carney Insists Barack Obama No George Bush, Glenn Beck and Michael Moore Agree on Edward Snowden, Nakoula Basseley Nakoula Wants to Finish Film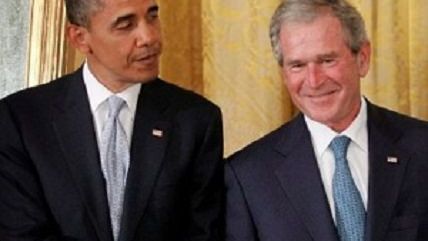 White House

Jay Carney insists Barack Obama is no George W. Bush and that the president has delivered on his promise to change the way the war on terror is waged.

Glenn Beck and Michael Moore called Edward Snowden, the NSA leaker, a hero, while Dianne Feinstein, John Boehner, and others have invoked treason. A White House petition is urging a pardon for Snowden, while Chinese internet users want their government to protect him.
The Senate has passed a farm bill that replaces the "direct payments" subsidy for farmers with a more complex set of subsidies based on market conditions that economists say amounts to price suppression and runs afoul of the World Trade Organization.
Support for affirmative action has hit 45 percent, a record low; the Supreme Court is expected to make a decision on an affirmative action-related case this summer.
Police in Boulder say entering homes when the doors are left unlocked is standard operating procedure. "Failure to do so creates liability," a police spokesperson said, while one resident whose house was entered while she wasn't home says she'd rather take her chances with getting murdered or held hostage than know cops can come in whenever she leaves her door open.
The grandmother of a seven-year-old girl shot and killed during a police raid in Detroit testified about the raid in the trial of the cop charged with involuntary manslaughter for the girl's death.
Nakoula Basseley Nakoula, who was thrown in jail after a YouTube trailer for his movie was blamed for the attack on the U.S. consulate in Benghazi, says he wants to finish the anti-Islamic film, Innocence of Muslims.
Ariel Castro faces 329 charges in relation to the kidnapping and false imprisonment of three young women in a Cleveland home.
Get Reason.com and Reason 24/7 content widgets for your websites.
Follow Reason and Reason 24/7 on Twitter, and like us on Facebook. You can also get the top stories mailed to you—sign up here. Have a news tip? Send it to us!