A.M. Links: Obama Approval Rating Holds Steady Despite Scandals, Barack Obama Reportedly Kept Out of Loop on IG IRS Investigation, Michelle Obama "Jokes" About Husband's Failures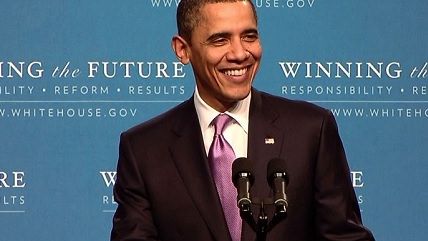 White House

A new CNN poll shows President Obama's approval rating holding steady at 53 percent despite a torrent of scandals in recent weeks.

The White House chief of staff apparently decided not to let Obama know about the inspector general's investigation of IRS targeting.
Michelle Obama "joked" in a commencement speech that she could talk about Barack Obama's failures all afternoon.
Fleet week in New York's canceled due to sequester. Fiscal concerns didn't stop the U.S. from conducting more than 200 refueling missions in support of the French intervention in Mali this year, however.
The city of Baltimore denies holding meetings on speed cameras in secret and other misdeeds.
Nigeria says its military captured about 200 suspected members of Boko Haram .
The former Guatemalan dictator Efrain Montt's conviction for genocide was overturned by the country's highest court.
Ray Manzarek of The Doors died at age 74.
Get Reason.com and Reason 24/7 content widgets for your websites.
Follow Reason and Reason 24/7 on Twitter, and like us on Facebook. You can also get the top stories mailed to you—sign up here. Have a news tip? Send it to us!