A.M. Links: Ammo Shortages Continue, Obama, Clinton Not Benghazi Probe Targets, Says Issa, Texas Regulating Bitcoin Operators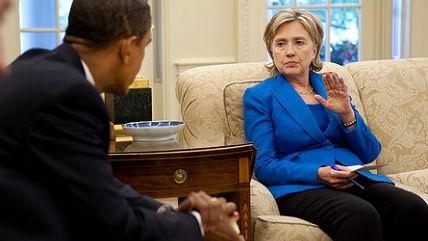 White House

Sustained high demand for ammo by government agencies and the public is leaving shelves empty.

Senator Susan Collins (R-Maine) wants President Obama to apologize for the way the IRS treated Tea Party groups.
Rep. Darrel Issa (R-Calif.) insists neither Barack Obama nor Hillary Clinton are targets in the House Benghazi probe.
Texas joins New York to become the second state to require Bitcoin exchangers and administrator have a license.
Pakistanis went to the polls on Saturday amid violence that killed at least 24. Former prime minister Nawaz Sharif looks set to return as prime minister for a third time as his PML (N) performed best in the high-turnout election.
A rebel commander in Syria says Iran, Israel and Hezbollah are all aiding the embattled Assad regime.
North Korea lays out the charges it prosecuted American prisoner Kenneth Bae for: smuggling anti-government materials and plotting the overthrow of the state. The U.S. and South Korea, meanwhile, begin a new set of joint naval exercises.
An ammonia leak on the International Space Station was fixed this weekend.
Get Reason.com and Reason 24/7 content widgets for your websites.
Follow Reason and Reason 24/7 on Twitter, and like us on Facebook. You can also get the top stories mailed to you—sign up here. Have a news tip? Send it to us!