Slayer Guitarist Jeff Hanneman, RIP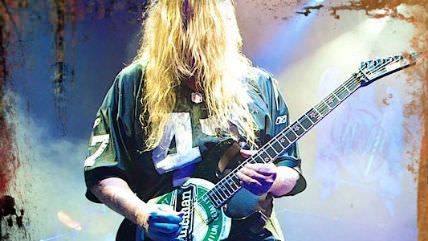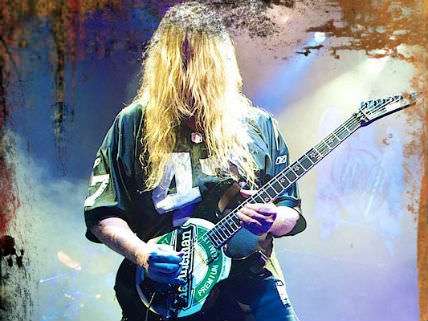 You don't need to be a fan of heavy metal music to be familiar with the band Slayer. Thanks to their graphic lyrical depictions of Satan worship, serial killers, and the horrors of war, the California thrash act has long enjoyed a well-earned notoriety—not to mention sold-out concert tours and album sales numbering in the millions. Guitarist Jeff Hanneman, one of the band's founders and principal songwriters, died Thursday of liver failure. He was 49 years old.
To say Slayer has left a mark on American culture would be an understatement. Rap icons Public Enemy famously sampled one of Hanneman's best guitar riffs on their landmark 1988 album It Takes a Nation of Millions to Hold Us Back, while gangster rap pioneer Ice T collaborated with the band on a song about government brutality and the 1992 Los Angeles riots. Slayer has of course influenced countless metal and hardcore bands since their formation in 1981, but their songs have also been covered by artists as different as Hank Williams III and Tori Amos. If you watch carefully, you'll even see Hanneman's band mate Kerry King playing the guitar solo in the music video for the Beastie Boys' 1986 mega-hit "No Sleep Till Brooklyn." The very name Slayer has become a byword for extreme music.
As the author of the music for most of Slayer's signature songs, including "Raining Blood," "South of Heaven," "Dead Skin Mask," and "War Ensemble," Jeff Hanneman deserves much of the credit for the band's long and influential reach. He also shouldered a good deal of the blame for their controversial reputation. Most notably, the band has been accused of harboring Nazi sympathies due to Hanneman's lyrics for the song "Angel of Death," which is told from the perspective of Nazi doctor Josef Mengele. While it's certainly a provocative piece of music, the song is best understood as a form of horror fiction loosely inspired by reality, a first-person tale that tries to get inside the mind of an evil killer. To call that a form of Nazi sympathy misses the point of art entirely, as Hanneman often explained during interviews. As Billboard notes in its obituary,
Hanneman frequently explained that the song was in no way intended to glorify Mengele. "I know why people misrepresent it," he told one radio interviewer. "It's because they get a knee-jerk reaction to it. There's nothing I put in the lyrics that says necessarily he was a bad man because to me—well, isn't it obvious? I shouldn't have to tell you that."
Interestingly, the band never came under similar fire for its 2006 song "Jihad," which is also told from the perspective of an evil killer, only in this case the narrator is an Islamic terrorist. Indeed, not only did Slayer escape from being branded as friends of bin Laden, that song even garnered them a rare bit of praise from the decidedly non-metallic pages of The New York Times, whose reviewer declared, "with religious extremism and death tolls the subject of casual daily conversations, [this album] makes Slayer sound as if it has been holding the trump card all along."
(Other musicians, I should add, were less fortunate in terms of the critical response to their post-9/11 meditations. Lefty country singer Steve Earle, for instance, was attacked for his 2002 song "John Walker's Blues," which examined the plight of the young American captured fighting alongside the Taliban in Afghanistan.)
Politically speaking, Slayer defies simplistic categorization. On the one hand, Christianity comes in for a severe beating in songs like "Jesus Saves" and "Cult." But then there's the ferocious 1988 track "Silent Scream," which depicts abortion as an unspeakable monstrosity, as well as 1994's "Dittohead," which sounds suspiciously like a law-and-order conservative lamenting the decline of American civilization (sample lyric: "Anyone can be set free / on a technicality / explain the law again to me").
Here's what I think it is safe to say about the band's politics: If heavy metal has a progressive left-wing, then Slayer is not on it. Slayer is about mining the depths of human depravity, not saving the planet or raging against the machine.
It's not music made for everybody, that's for sure. But for those of us who do appreciate it, we owe Jeff Hanneman our thanks.
RIP.