In Bureaucratic Bungle, Background Checks Missed Sheriff's Killer, But Catch Plenty of Innocent People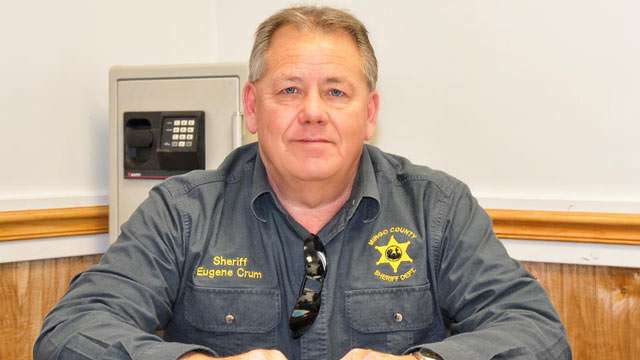 As Jacob Sullum has pointed out, the deal in the Senate expanding background checks to private-party firearms sales at gun shows or initiated through online ads, is not only poorly considered and largely unenforceable, it wouldn't have prevented December's Sandy Hook massacre. But the story behind the murder of Sheriff Eugene Crum of Mingo County, West Virginia, illustrates another problem with background checks: they rely on the efforts of government bureaucrats of the usual quality and competence to maintain and share records in an accurate and timely manner. Tennis Melvin Maynard passed a background check to buy the gun he used to kill Crum, despite being legally forbidden to purchase firearms, demonstrating that the system already doesn't work as advertised. Worse, background checks subject the rights of perfectly safe people to the same flawed process.
According to the Associated Press:
Mingo County Prosecutor Michael Sparks said a breakdown in the reporting system enabled Tennis Melvin Maynard to purchase the gun used to kill Sheriff Eugene Crum on April 3 as the lawman ate lunch in a downtown Williamson parking lot.

"It appears the local dealer did what was legally required under the law," Sparks said. "The breakdown happened somewhere else. There was a delay in the reporting of the necessary information. Really, an inexcusable delay."

While Sparks wouldn't elaborate on why Maynard was barred from owning a gun, Maynard's father has said his son had mental problems and had previously been in an institution.

Federal law prohibits the sale of firearms and ammunition to certain individuals with a history of mental illness. States are required to share the names of mentally ill people with the national background-check system, which was established under the 1993 Brady Bill.

In West Virginia, such information is supposed to be automatically reported to the FBI, which conducts background checks through its Criminal Justice Information Services Division in Clarksburg. CJIS Division spokesman Steve Fischer said the division doesn't comment on specific background checks.
So, the background check failed, because a bureaucracy moved at bureaucratic speed in transferring information from Point A to Point B. Astounding, that.
In and of itself, that would be a sad demonstration of the inability of background checks to live up to the advertising. But bureaucracies are as good at transmitting wrong or garbled information as they are bad at sharing good information. Politicians love touting the number of would-be gun buyers who are turned away by background checks, but they rarely mention how many of those denials are bureaucratic errors, and how many are ultimately reversed. From the Department of Justice itself (PDF):
The DENI Branch screened 76,142 NICS denials received from the FBI during 2010, and referred 4,732 denials (approximately 6%) within the established guidelines to field divisions. The referred cases were made up of 2,265 delayed denials (3% of all denials) and 2,467 standard denials (over 3%). The remaining denials (71,410, or nearly 94%) did not meet referral guidelines or were overturned or canceled. Overturns occurred after review by the DENI Branch or after the FBI received additional information. The FBI canceled a small number of denials in cases where a NICS check should not have been conducted.
The formal appeal rate was only 22.7 percent in 2010, by the way, with 21.1 percent of those appeals resulting in reversals. That means the rest of the "overturned or canceled" denials are being generated in-house. I suppose you could say that the system is working then, since it's catching errors, but it's a hell of a thing to have the exercise of an individual right in the hands of error-prone bureaucracies. Let's just hope that none of those denied would-be gun buyers who were referred for some sort of action represented uncaught bureaucratic errors.
Of course, one reason for denial is being an "unlawful user of, or addicted to, marijuana or any depressant, stimulant, narcotic drug, or any other controlled substance" — a point that could potentially disqualify 42 percent of Americans if ever taken seriously. Non-violent felonies that could carry sentences of more than one year are also disqualifying, which is a bit concerning in a country where laws are knee deep and even petty violations are increasingly tagged as felonies.
It shouldn't be any surprise that the people who have made the Department of Motor Vehicles and the Post Office what they are today have brought the same deft touch to firearms background checks. The result is that people disqualified from buying guns can slip through the gaps and, worse, people just trying to exercise their legitimate rights may be stopped and hassled.
It's possible that no legal measure could have put Sheriff Eugene Crum beyond the reach of violence. But background checks certainly didn't help him.