Matt Welch on Rand Paul's Historic Filibuster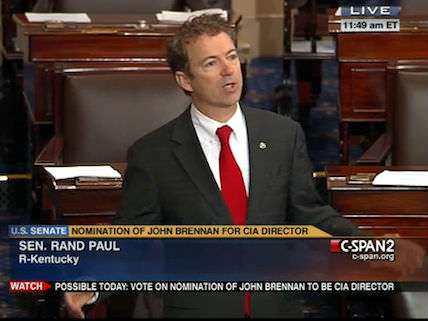 In his epic filibuster last month, Sen. Rand Paul of Kentucky, a self-described libertarian Republican, stood up for 13 hours on the Senate floor and yelled "Stop!" to a decades' worth of bipartisan support for extra-judicial robot death squads. What began just before noon as a quixotic, one-man filibuster of CIA director nominee John Brennan (who, in another indication of the Obama-era civil liberties deterioration, had been deemed too pro-torture by Democrats as recently as 2008), soon evolved into a phenomenon the likes of which we may have never seen.
Instead of reading through a phone book or quoting random texts to kill the time and dull his colleagues' ears, observes Matt Welch, Paul launched a cogent, comprehensive, and inspirational half-day critique of bipartisan executive overreach. By framing his objection as a simple attempt to get an answer from the White House on one narrow but fundamental question—does the administration believe it has the legal and constitutional right to assassinate Americans by drone on U.S. soil?—Paul was able to rally unlikely allies and expose the opposition as arrogant defenders of unchecked lethal power.