Kurt Loder Reviews Spring Breakers and The Incredible Burt Wonderstone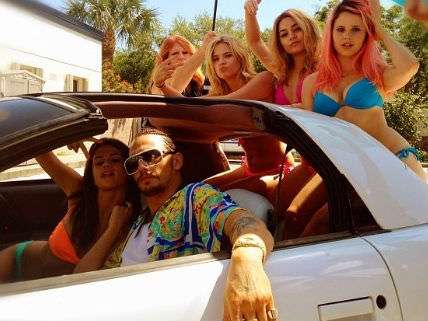 After 20-some years of MTV beach marathons and another 16 of harder-core Girls Gone Wild sex-and-sand videos, director Harmony Korine is coming very late to the great American Spring Break bacchanal with his new movie Spring Breakers. And you have to wonder why he bothered, writes Kurt Loder, since he has nothing interesting to say about it—unless you feel that some foggy noodling about the Dark Side of the seaside frolics on view is somehow different from the dire warnings that worried parents have been imparting to their vacation-bound offspring for many, many years.
The Incredible Burt Wonderstone, on the other hand, passes up any number of opportunities to be much funnier than it is. Steve Carell and Steve Buscemi are a team of top Las Vegas magicians—Burt Wonderstone and Anton Marvelton are their unflinchingly fakey names—who've been headlining at a big casino theater for 10 years. They're stars on the Strip, but their act has grown stale, and conflict soon arrives in the person of Steve Gray (Jim Carrey), a preening street magician who represents a new, more hard-edged breed of performer.