Picturing the Sublime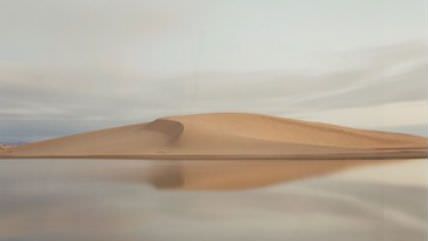 "Of such excellence, grandeur, or beauty as to inspire great admiration or awe" is a good definition of sublime. "Picturing the Sublime," an exhibition of 11 large-format photographs at the privately owned Phillips Collection in Washington, D.C., scheduled to run through January 13, succeeds in evoking that reaction from viewers by focusing on nature and human interaction.
Battleground Point #14, a 1999 chromogenic print by Richard Misrach, starkly depicts a gracefully curving desert sand dune reflected perfectly in a vast shimmering temporary lake created by a flash flood in Nevada's Carson Sink. The gigantic Lego-like rocky riprap strewn across the landscape in Josef Koudelka's 1989 gelatin silver print of a dike at a harbor in Calais stirs up awe at humanity's determination to defend itself against the vagaries of nature. Other photos include Francis Frith's 1858 print of The Pyramids of Dahshur, Egypt and Ansel Adams' lyrical image of alpenglow in the Sierra Nevadas in his 1942 Winter Sunrise.