Matt Welch on Martin Luther King Jr.'s Legacy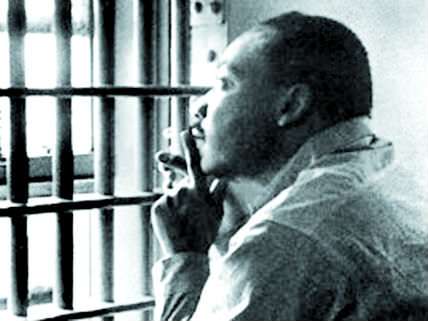 Like Benjamin Franklin, Thomas Jefferson, George Orwell, Václav Havel, and the very best of our political/literary heroes, Rev. Martin Luther King, Jr., led a life and left a written record monumental enough to inspire people who couldn't agree less with one another. For the president of the United States, King is a reason to embrace National Service. For the U.S. Conference of Catholic Bishops and the attorney general of Virginia, King is a reason to engage in civil disobedience against the president's signature law. He's a hero to military interventionists and anti-war activists; invoked in the cause of empowering Palestinians and fighting "for a secure Israel," and used by both sides of the current gun debate.
This fight over King's legacy is a testament to the rare power of his words, writes Reason Editor in Chief Matt Welch. The texts we argue about most—the Bible, the Constitution, Orwell's wartime essays, MLK's civil rights sermons—are the ones whose force of enlightenment, poetry, passion, and morality have risen above the cacophany of human language to almost universally stir souls and inspire liberation. People don't fight over words that only apply to one side of most arguments.