New Allegations That Qaddafi Helped Fund Sarkozy's 2007 French Presidential Campaign
Allegations first surfaced while Sarkozy was pushing to topple the Qaddafi regime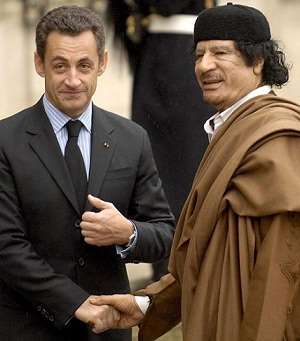 As noted on Reason 24/7 last week, new allegations are surfacing that former French President Nicholas Sarkozy received funding from the Qaddafi regime for his 2007 election campaign and afterward, this time from a Lebanese-born French businessman under formal investigation for allegedly taking illegal kickbacks for arms deals. From the New Zealand Herald:
Documentary proof exists that France's former President Nicolas Sarkozy took more than €50 million ($78.8 million) from the late Libyan dictator, Muammar Gaddafi, a French judge has been told.

The claim, leaked this week, was made just before Christmas by Lebanese-born businessman Ziad Takieddine, who has been a fixer for legal—and allegedly illegal—dealings between France and the Middle East for 20 years…

The Lebanese businessman is himself under formal investigation for allegedly organising and receiving illegal kickbacks on arms deals over two decades. He admitted on Thursday that his allegations were part of a proposed trade-off with the French judicial system.
The claim was made most prominently by Saif al-Islam, one of Qaddafi's sons, in an interview with euronews in March 2011, while his father's regime was crumbling under fire from Libyan rebels backed by a foreign intervention advocated aggressively by Sarkozy's France. Col. Qaddafi was captured, sodomized and shot less than six months later, with aerial support from a U.S. drone.
The Herald also notes the peculiar change in Sarkozy's attitude toward Libya between his ascension into office in 2007 and the Libyan civil war in 2011:
Allegations of illicit dealings with Gaddafi are especially sensitive for the former French President. With British Prime Minister David Cameron, he organised and led the international support for the Libyan opposition which eventually led to Gaddafi's downfall and death in October 2011.

Before that, however, Sarkozy puzzled many of his own supporters by granting Gaddafi an obsequious and glittering state visit to France in December 2007. It later emerged that a number of contracts had been signed by France and Libya.
Sarkozy is separately under investigation for other alleged fundraising improprieties in his 2007 campaign. He was defeated last year by Francois Hollande, who has been pushing for a foreign intervention in North Africa of his own, in Mali.