Steven Greenhut on Protecting Freedom from Overreaching Government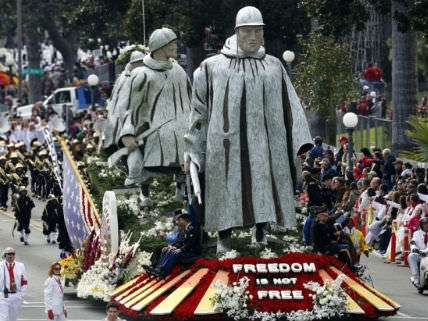 This year's Rose Parade in Pasadena, California featured the Department of Defense's "Freedom Isn't Free" float. While nothing is close to free when DOD is involved—the B-2 bomber that made a fly-by as parade-goers cheered cost more than twice its weight in gold—the rose- and carnation-covered replica of the Korean War Veterans Memorial offers a good opportunity to think about the state of America's freedoms as we ring in the New Year.
Unfortunately, writes Steven Greenhut, the news isn't particularly encouraging. Maintaining a free society involves more than standing up, militarily, to un-free ones. Many areas of our society are disturbingly authoritarian, and the voting public seems less concerned about freedom issues and more interested in the "free" stuff politicians promise them. Government grows at an alarming rate regardless of which party is in power.