Kurt Loder Reviews Amour and West of Memphis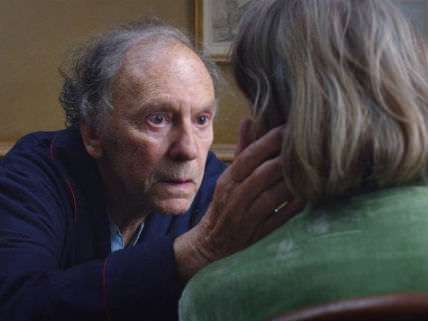 What a difference a New Year's Day makes. Over the last few weeks we've been endlessly jostled by contending blockbusters: Zero Dark Thirty, Les Miz, Django Unchained, Peter Jackson's sprawling Hobbit opus. Now, suddenly, we find ourselves abandoned once more in the movie graveyard of January, traditional burial ground for pictures that all but announce their insufficiency.
So let's focus instead, writes Kurt Loder, on two movies that are already out in limited release, and now in the process of expanding (at least somewhat) across the country. One of these is Amour, a soul-wringing film by the fearlessly difficult Austrian writer-director Michael Haneke. The movie has already won the top prize at Cannes, and is now Austria's submission for Best Foreign Language Film at this year's Oscars. Here, Haneke, a master of icy appraisal and the unflinching lockdown shot, closely contemplates an elderly Parisian couple at the very end of their lives. The other film, West of Memphis, might be seen as a summation of the events chronicled by Joe Berlinger and Bruce Sinofsky in their Paradise Lost documentaries. That trilogy of films helped draw national attention to the fate of the West Memphis Three, a trio of hapless teenagers in West Memphis, Arkansas, who were convicted in 1994 of the "Satanic" murder and mutilation of three eight-year-old boys. Two of the defendants, Jason Baldwin and Jessie Misskelley, were sentenced to life in prison; the third, Damien Echols, was sentenced to death.