U.S. Troops Helping Secure Part of Central African Republic as Rebels Near Capital
U.S. helping rout out LRA in the south as an insurgency sweeps through the north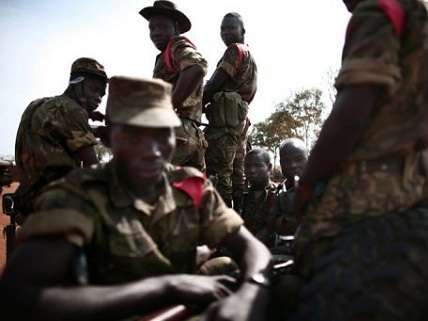 In October of last year, President Obama informed Congress he was sending 100 U.S. troops to Uganda to help hunt down Joseph Kony, later labeled a terrorist by the State Department, and his Lord's Resistance Army. Troops would be deployed to Uganda as well as the Congo, the Central African Republic and the newly independent South Sudan, the purported range of the LRA.
Those troops, President Obama insisted in each of his subsequent war powers reports to Congress, "will not engage LRA forces except in self-defense." The LRA, a veritable gang of war criminals, is not a new bugaboo for America. President Bush personally authorized the military to participate in a regional mission late in his administration to capture Kony, then hiding out in a Congolese national park.
The LRA is not the only rebel outfit operating in the region and contributing to instability. Last month, a break-away military group called the M23 (the March 23 movement, named after the date of a peace treaty rebels claim isn't being upheld) briefly took over a major Congolose city in the area, Goma.
And in the Central African Republic, a rebel alliance, comprised of break-away factions of rebel groups that also disputing a peace treaty, has captured its seventh town and is approaching the capital. Forces from Chad entered the Central African Republic from the north earlier this week to quell the insurgency, while U.S. troops are helping Central African Republic forces secure the south, where the Lord's Resistance Army's reach is near its furthest, hundreds of miles away from Uganda.
Kony himself, meanwhile, is believed by Uganda to be located as far out as the volatile Sudan-South Sudan border, where U.S. troops are also deployed. Nevertheless, humanitarian interventionists want those troops to "play a more operational role" in the hunt for Kony.