Investing in Green Energy: A Great Way to Lose Your Money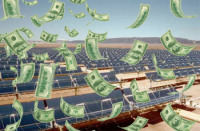 Last year, the environmentalist lobbying group, Greenpeace, issued its "The Silent Energy Revolution" study which crowed:
The bright future for renewable energy is already underway. This new analysis of the global power plant market shows that since the late 1990s, wind and solar installations grew faster than any other power plant technology across the world….
To get some idea of just how well renewable energy "revolution" is doing in the marketplace let's take a look at how cleantech stocks have been performing on average. Over at the Washington Times, climate catastrophe skeptic Steve Goreham, executive director of the Climate Science Coalition of America, asks, "So, how is your green energy stock doing?" His answer is not at all well. His conclusion is based on the 7-year trends identified by the Renixx Index of the 30 biggest renewable energy companies. Since Goreham doesn't want anyone reprinting his article, I've put a couple of illuminating stock trends charts below. The first one is the Renixx Index for the past five years - dropping 90 percent in value since 2009.

The next chart shows the price trend in the the First Trust ISE Global Wind Energy Fund:

And see also the popular WilderHill Clean Energy Index below. It has fallen about 90 percent from its high in 2007:

The Greenpeace report favorably cites another that noted:
"Policy and regulation continue to be central to ensuring the long term stability of projects from a revenue and operation perspective. It is imperative that both regulation and policy be clear, of a long duration, and legally based in order to deliver growing volumes of private funds into the [renewable energy] sector."
As Greenpeace makes clear "policy and regulation" nets out to subsidies for wind and solar and tightening restrictions on all other energy sources. But surely any reasonable definition of "sustainabilty" should include "financial sustainabilty." If an activity requires government subsidies that means it is not sustainabie.