Donate to Reason: Because We Don't Luxuriate in Warren Buffett's Oracular Musk!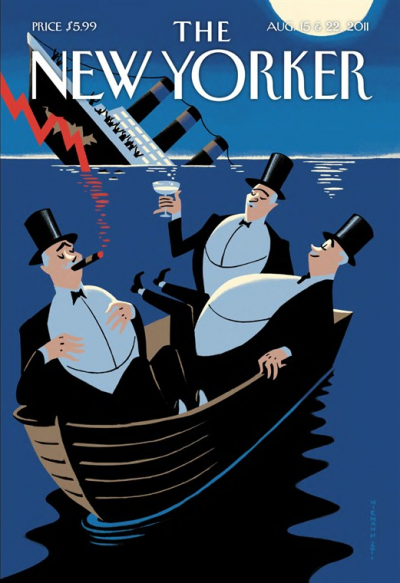 If there is any publication that makes the journalism profession swoon, it's The New Yorker. Stable of cajillion-selling author Malcolm Gladwell and several score other staff writers, serial winner of National Magazine Awards, and provoker of Hit & Run commenter anti-beard/turtleneck wrath, this august publication in many ways reflects the aspirations of what many mainstream journalists want to become. I am a happy subscriber, but I'm also happy to edit a magazine that, for a rounding error of David Remnick's budget, manages to avoid some of journalism's most annoying cliches.
Such as gobbling down whatever tax-hiking corporatist Warren Buffett says about public policy.
Take a gander at this wholly credulous mini-profile of Buffett by New Yorker financial columnist James Surowiecki. Excerpt:
No longer just America's favorite investor, in recent years he's become a kind of public sage, a role exemplified by his crusade to get the government to raise taxes on the wealthy—a crusade enthusiastically invoked by President Obama both in last January's State of the Union address and in the recent Presidential campaign. Somehow, at a time when public hostility toward the super-rich has never been greater, he's become not only the second-richest man in America but also one of the most revered. […]

Another crucial aspect of Buffett's public appeal is his unnervingly even persona. He's not placid—at eighty-two, he's a garrulous bundle of energy, his conversation punctuated by little bursts of laughter—but he projects an aura of profound cool. During the financial crisis, he was the human equivalent of one of those "Keep Calm and Carry On" signs.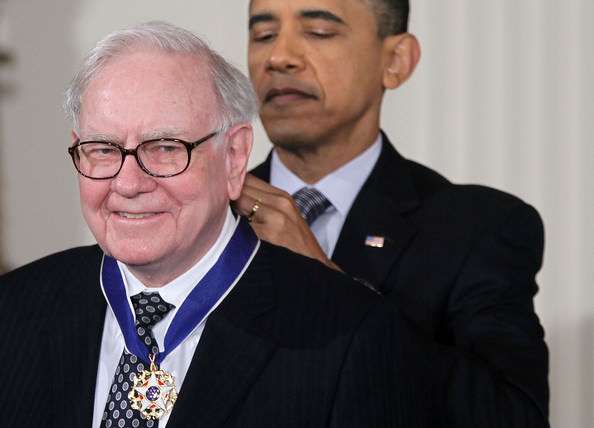 Reading the financial columnist of the nation's leading journalistic magazine (or the financial columnist of the nation's leading newspaper!), you'd think that sagely ol' Warren was just dispensing homespun morality out of the goodness of his heart in an age when such notions are out of fashion. Reason readers know better.
In our March 2012 issue, Peter Schweizer burst the Buffett bubble with a remarkable piece titled "Warren Buffett: Baptist and Bootlegger." In it, we learn that there were quite a few words on that "Keep Calm and Carry On" signs that Surowiecki left out:
[In fall 2008], Wall Street was on fire, and Buffett was running toward the flames. But he was doing so with the expectation that the fire department (that is, the federal government) was right behind him with buckets of bailout money. As he admitted on CNBC at the time, "If I didn't think the government was going to act, I wouldn't be doing anything this week." […]

Buffett needed the TARP bailout more than most. In all, Berkshire Hathaway firms received $95 billion in TARP money. Berkshire held stock in Wells Fargo, Bank of America, American Express, and Goldman Sachs, which received not only TARP money but also Federal Deposit Insurance Corporation (FDIC) backing for their debt, worth a total of $130 billion. All told, TARP-assisted companies constituted a whopping 30 percent of Buffett's publicly disclosed stock portfolio. The folksy outsider with his home-spun investment wisdom, the Houston Chronicle concluded in an April 2009 investigative piece, was "one of the top beneficiaries of the banking bailout."

Buffett received better terms for his Goldman investment than the government got for its bailout. His dividend was set at 10 percent, while the government's was 5 percent. Had the bailout not gone through, and had Goldman not been given such generous terms under TARP, things would have been very different for Buffett. As it stood, the arrangement with Goldman Sachs earned Berkshire about $500 million a year in dividends. "We love the investment!" he exclaimed to Berkshire investors. The General Electric deal also was profitable. As Reuters business columnist Rolfe Winkler noted on his blog in August 2009: "Were it not for government bailouts, for which Buffett lobbied hard, many of his company's stock holdings would have been wiped out."

By April 2009, Goldman share prices had more than doubled. By July 2009, Buffett had already received a return of $2.5 billion from his investment.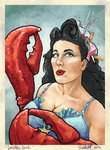 In fact, as I wrote at CNN Opinion this February, the left's (and the media's) favorite billionaire might just be "the single most successful crony capitalist in the country." It's the kind of journalistic context that gets lost in the shiny awesomeness of having a rich guy agree with you for once.
As we hurtle through Day 3 of Reason's annual Webathon, here's a reason to consider giving a tax-deductible donation to the 501(c)3 nonprofit that makes our journalism possible: Because we are the fly in the media's ointment, the simple Hobbit striding defiantly into the MSM's Mordor, the [TERRIBLE MIXED METAPHOR REDACTED TO AVOID THE WRATH OF KATHERINE MANGU-WARD].
We disrupt and disprove popular narratives, whether about drugs, fiscal policy, or science, not for the sake of contrarianness itself, but because we have a natural instinct against alleged consensus, and a built-in skepticism of the state.
Do those value square with yours? Are you able to take the fruits of our labors and use them in pointed arguments with loved ones and frenemies? Then donate to Reason today!