Julian Morris and Katie Furtick on How Future Storms Like Sandy Could Bankrupt States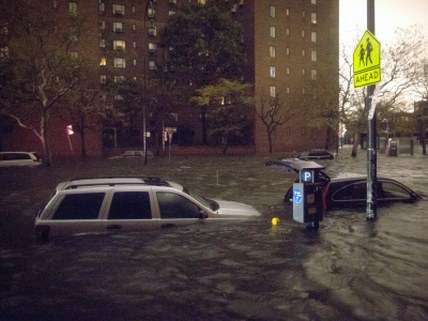 Superstorm Sandy killed over 70 people in the U.S., knocked out power for millions up and down the East Coast, flooded the New York Subway, and damaged thousands of homes. The final price tag for the storm's damage could exceed $40 billion, which would make it the most expensive storm to hit the U.S. since Hurricane Katrina.
Coming as it did, only a year after Hurricane Irene and eight years after Hurricane Ivan, some are asking whether it is part of a trend towards more damaging storms. The answer is yes—we humans are to blame for more damaging storms, but not for the reasons you might think. As Julian Morris and Katie Furtick of Reason Foundation explain, one of the main culprits is government intervention in insurance markets, which creates perverse incentives to build in danger zones, thereby increasing the threat posed by storms both to property owners and to taxpayers. If Sandy had hit Florida the way it hit New York and New Jersey, it might have bankrupted the state. To reduce the scale of future damage from storms like Sandy, and the threat of fiscal implosion, federal and state governments should get out of the insurance business.