Italian Court Convicts Scientists For Not Warning of Earthquake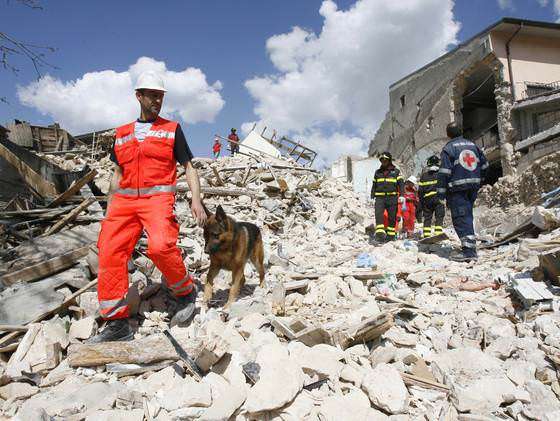 Having grown up in a household with Neapolitan roots, I'm probably beyond shock at the odd twists and turns that Italian reasoning can take. Still, I have to raise an eyebrow at the news that an Italian court convicted seven earthquake researchers of manslaughter for failing to predict a 2009 rumble that killed over 300 people. After a trial that has been ridiculed worldwide for its semi-medieval quality, the scientists face six years in prison if the convictions survive the appeals process.
Scientists worldwide had decried the trial as ridiculous, contending that science has no reliable way of predicting earthquakes.

Among those convicted were some of Italy's most prominent and internationally respected seismologists and geological experts, including Enzo Boschi, former head of the national Institute of Geophysics and Volcanology.

"I am dejected, desperate," Boschi said after the verdict. "I thought I would have been acquitted. I still don't understand what I was convicted of."
According to the charges, the defendants' specific transgressions appear to have been providing "inexact, incomplete and contradictory information" in the lead-up to the earthquake. Reading between the lines about devastated towns and survivors living in tents for months after the disaster, I suspect that the real crime was being convenient scapegoats for officials who had a mess on their hands and wanted to divert attention elsewhere. Since every effort to forecast future events of which I'm aware is inherently "inexact" and "incomplete" and the participation of more than one voice often makes it "contradictory," those scapegoats were easy to come by in the form of these researchers.
According to the AP report, "[a] defense lawyer, Filippo Dinacci, told reporters that the sentence would have 'big repercussions' on public administration since officials would be afraid to 'do anything.'" Well, yes. That outcome seems not only likely, but in the case of researchers into matters potentially traumatic, would appear to be highly advisable. The Guardian noted in 2009 that a researcher not included in this case was cautioned by officials for actually warning of an earthquake in the days before the 2009 event. Given the no-win situation that creates, it's better to just keep your mouth shut.
Or, maybe failing to say anything is prosecutablle, too.