Should Russians Have Rioted Over Pussy Riot Instead?
America's response to Russia's response to speech Russia considered religious hatred doesn't match America's response to speech it considers religious hatred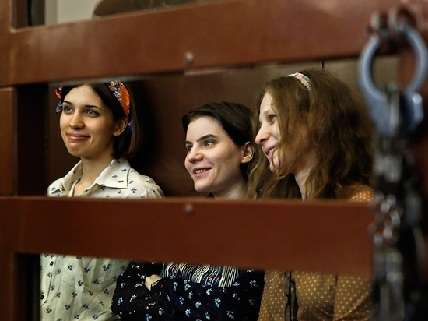 Back in August when three members of the Russian punk group Pussy Riot were sentenced to two years in prison for hooliganism, related to an incident in which they entered a cathedral in Moscow to perform at the altar in protest of the Russian Orthodox Church's relationship with the state, some Russian apologists took issue with the way the Pussy Riot was being framed in the West as a free speech issue. The Italian journalist Enza Ferreri said "any civilized country has the law that protects feelings of religious people being offended." The World Russian People's Council similarly framed the issue as one of "religious tolerance":
Defenders of the infamous group justified, glorified and even called on people to repeat their clear hooliganism only because it was targeted against the Church. This indicates serious moral problems in the influential part of the global liberal community and shows that the principles of tolerance and freedom of conscience they declare are very far from their real goals.
The State Department laid out the U.S. government's stance on the Pussy Riot trial after a verdict was reached:
The United States is concerned about both the verdict and the disproportionate sentences handed down by a Moscow court in the case against the members of the band Pussy Riot and the negative impact on freedom of expression in Russia.
Contrast the reaction to a sentence of hooliganism in Russia for an incident described as "motivated by religious hatred" by the court to the U.S. government's near universal condemnation of a film (free speech!) made in America believed to be motivated by religious hatred and blamed by the government for worldwide protests and a terrorist attack in Libya neither the Libyans nor anyone else believed had anything to do with just a film, and draw your own conclusions.