What a Soft Line on Free Speech Gets: Egypt Wants to Arrest Folks Behind Muhammad Video
Threatening to kill those who offend kind of feeds into the movie's narrative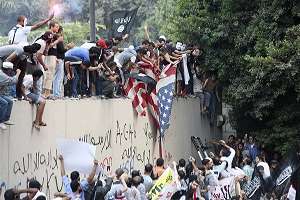 Jesse Walker warned last week that government condemnation of expressions of free speech has a tendency to fan the flames of the indignant rather than quell them. Today, the riots in Cairo blamed on the Innocence of Muslims film have resulted in Egypt putting out arrest warrants against the people they believe are responsible. For the film, that is. Courtesy of the Associated Press:
The prosecutor's office said in a statement that the accused, which includes the film's alleged producer, face charges of harming national unity, insulting and publicly attacking Islam and spreading false information. The office said they could face the death penalty, if convicted. No date for the trial has been set.

Among those charged is Nakoula Basseley Nakoula, an Egyptian Copt living in southern California and believed to be behind the film. Florida-based Pastor Terry Jones, who has said he was contacted by the filmmaker to promote the video, as well as Morris Sadek, a conservative Coptic Christian in the U.S. who pushed the video on his website, are also among those charged.
According to the Associated Press, Egypt sees the trial as "symbolic" because they doubt any of the defendants will be coming to their country anytime soon. The actual point of the threatening a handful of Americans with death over some stupid video is to get the indignant protesters to shut the hell up and go back home.
The prosecutor's decision to take legal [action] appears aimed at absorbing at least some of the public anger over the amateur film, which portrays the Prophet Muhammad as a fraud, womanizer and buffoon.
The announcement is fresh, so the story lacks any response from the Obama administration as yet. Given that American officials can barely utter a defense of free speech without condemning the movie, we shouldn't expect much. As it is, we have former government officials trying to argue that the movie doesn't merit free speech protection for the truly absurd reason that it will incite the people it's criticizing to violence. (I pointed out last week that arguments like this also reduce the entirety of Muslim society to a bunch of irrational savages. Is that really the argument the left wants to present here?)